Inside Google Cloud
And the winner is...Circular Economy 2030 rewards innovation in sustainability
In 2018, the global demand for natural resources was 1.7 times more than what the Earth can support in one year. Between pollution, consumption, wasted energy and agricultural needs, we are using more ecological resources than the Earth can regenerate. But with the help of modern technology, business can be a positive catalyst for the changes we need to make to build a sustainable future.
That's why we've partnered with SAP to host a sustainability contest for social entrepreneurs called Circular Economy 2030. We kicked this contest off at the 2019 World Economic Forum at Davos by inviting thought leaders from around the world to submit a revenue-generating idea that uses both Google Cloud and SAP technology to advance a circular economy—a holistic system that aims to redefine growth, focusing on positive society-wide benefits. It is based on three principles: design out waste, keep products in use, and regenerate natural resources.
At the heart of the circular economy concept is the idea of decoupling economic growth from resource use to support sustainable development. It's the kind of economy that could help generate $4.5 trillion of new economic output by 2030, which is particularly timely given the United Nations' 2030 Agenda, which consists of 17 sustainable development goals (SDGs) that include ending poverty, establishing gender equality, and taking climate action. Specifically, our Circular Economy 2030 contest is focused on SDG 12: Responsible Consumption and Production.
Choosing the Circular Economy 2030 contest winners
In collaboration with UN Environment, the Ellen MacArthur Foundation, and the Global Partnership for Sustainable Development Data, we reviewed more than 250 applications from more than 50 countries. Applicants' ideas spanned the breadth of the circular economy, addressing food waste, e-waste, renewable energy, and behavioral change, to name a few. To select the finalists, we worked with leaders from each of our organizations with expertise in cloud computing, sustainability, and sustainable development. The judges include:
Alison Wagonfeld, Chief Marketing Officer, Google Cloud
Alicia Tillman, Chief Marketing Officer, SAP
Kate Brandt, Google Sustainability Officer, Google
Daniel Schmid, Chief Sustainability Officer, SAP
Andrew Morlet, Chief Executive, Ellen MacArthur Foundation
Claire Melamed, Chief Executive Officer, Global Partnership for Sustainable Development Data
Fatou Ndoye, Deputy Director, UN Environment
Following our judging selection round, the next step was announcing the five finalists during an interdisciplinary panel session at the Google Cloud Next '19 conference in San Francisco: "Circular Economy 2030: Cloud Computing for a Sustainable Revolution." Whether working to track industrial waste flows for increased accountability or addressing rural food waste with solar-powered cold storage, the Circular Economy 2030 finalists all excelled across the assessment criteria of original idea, business model, potential impact, and technical innovation.
Here's more detail about the finalists and their social enterprises: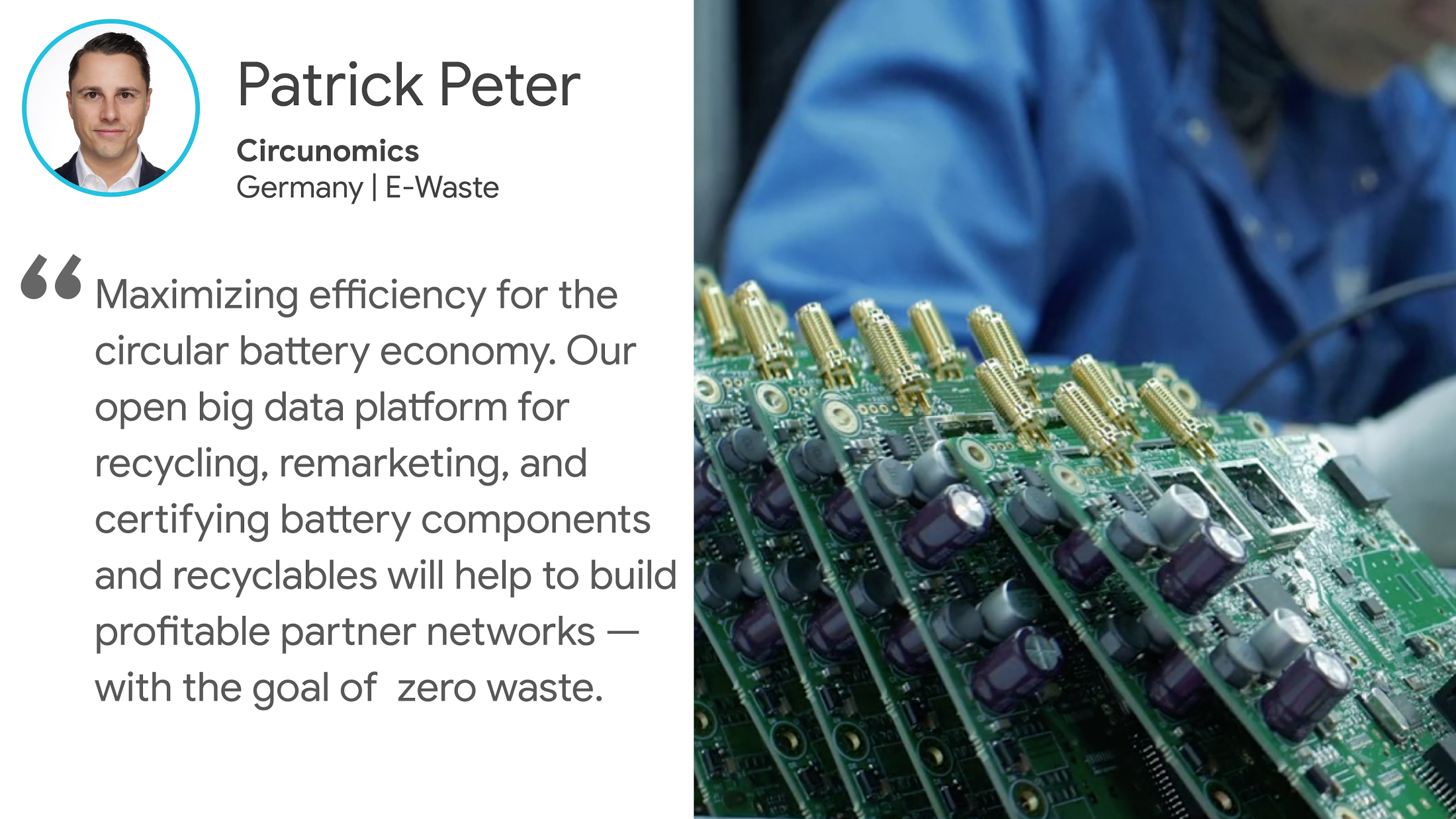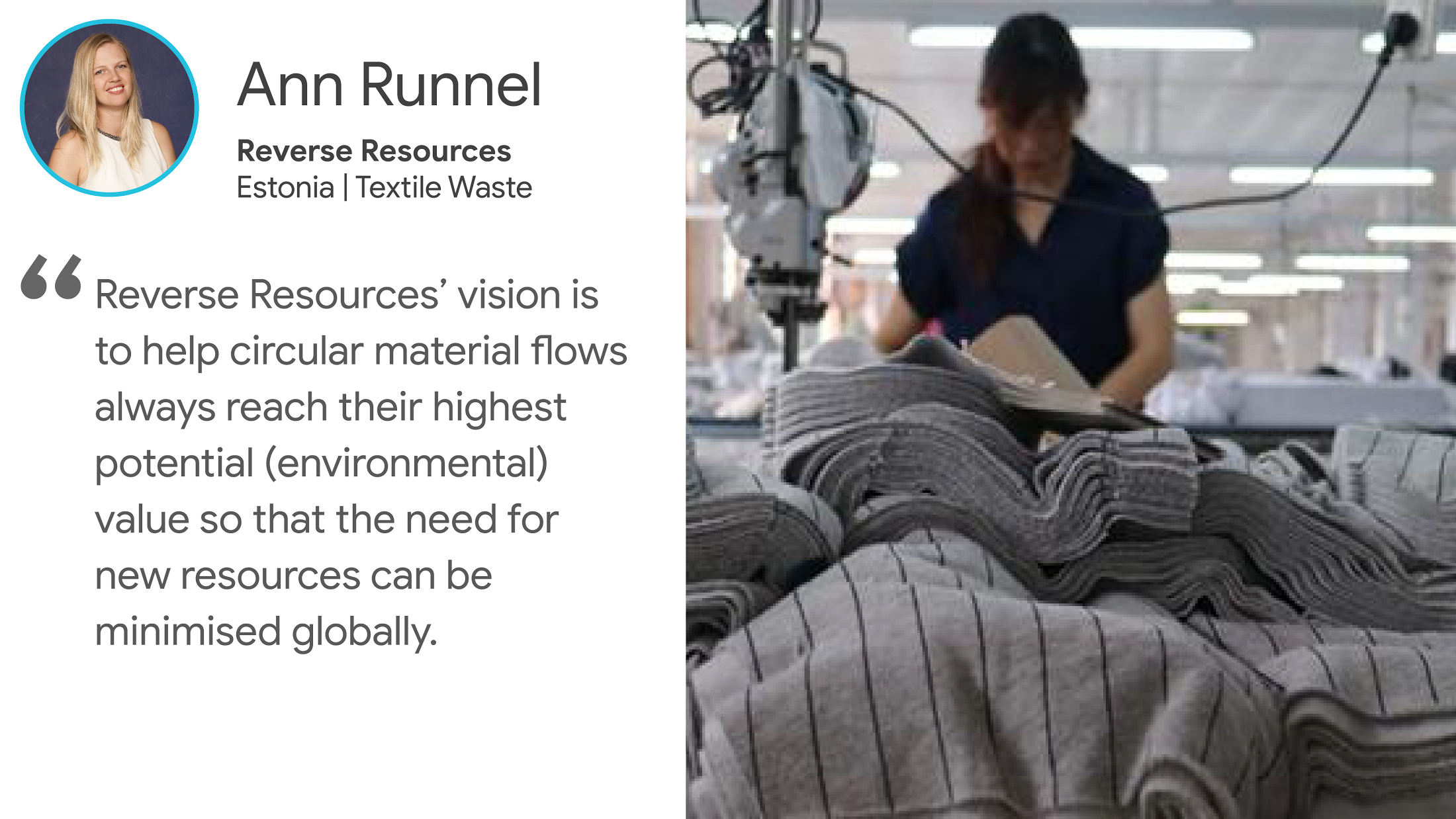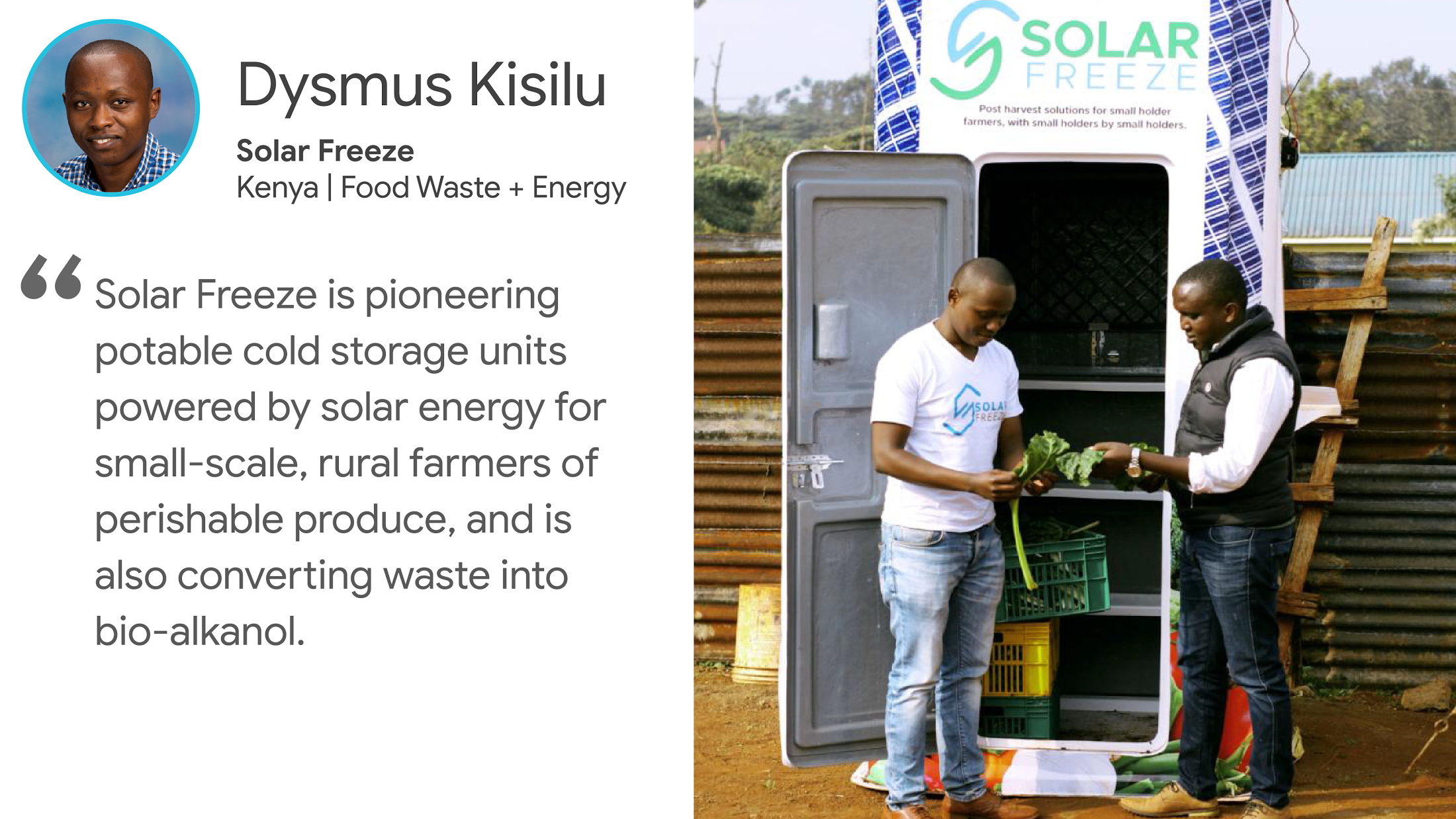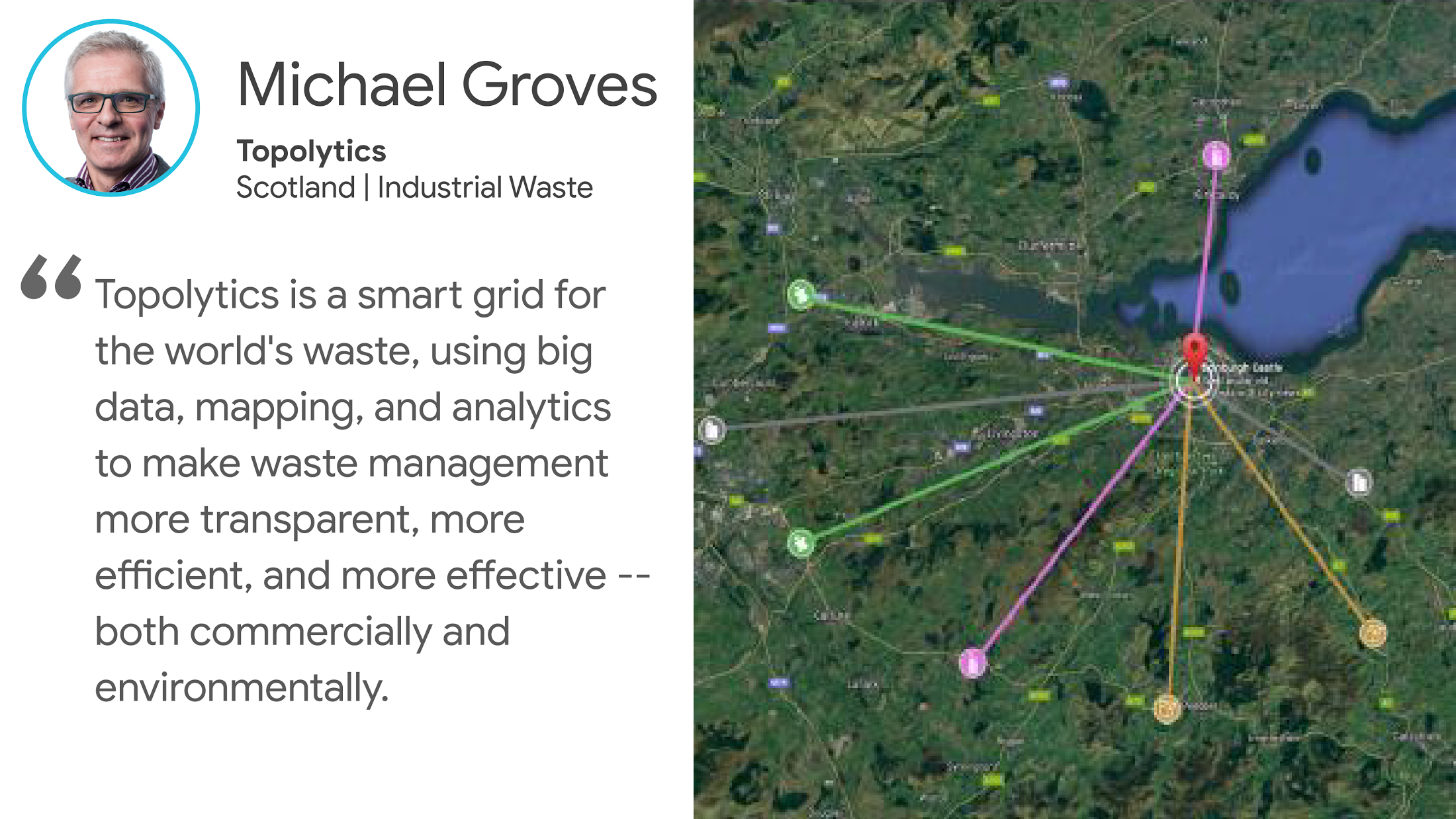 We congratulate each of the winners not only for their insightful proposals, but for their passion for social wellbeing and sustainability. Four of these finalists will receive a prize of $45,000 in funding and in-kind benefits—and the grand prize winner will receive $200,000 in in-kind benefits, plus participation in the Google Cloud for Startups bootcamp.
Today, Google Cloud and SAP are thrilled to announce that the grand prize winner of the Circular Economy Contest is Michael Groves, Founder of Topolytics.
During the final stage of choosing the winner, the finalists flew out to San Francisco and participated in an in-person solve-a-thon that included both interactive workshops and hands-on problem-solving sessions with Google Cloud and SAP volunteers—all with the goal of preparing for their final presentation pitch. After much deliberation, we selected Topolytics, led by founder Michael Groves. The business idea for Topolytics not only met our judging criteria in terms of originality, but also demonstrated a well-researched proposal with a high potential for advanced application of both Google Cloud and SAP technology. Moreover, we were impressed by Groves' engagement and willingness to roll up his sleeves during the interactive workshop, where he demonstrated a strong level of commitment to learning and growth. That was especially evident during the final presentation, where Groves incorporated the feedback provided by our teams throughout the weekend.
We congratulate Michael and can't wait to see more from Topolytics. The Circular Economy 2030 contest is over, but the adventure continues. We look forward to ongoing collaboration with these social entrepreneurs, as well as the organizations that supported this initiative. A sustainable future demands that we create change in the present, and it's an effort we can work on together. Learn more about Circular Economy 2030 and see the latest on sustainability with Google Cloud.