Management Tools
Billing info is at your fingertips in the latest Cloud Console mobile app
Cloud billing is an important part of managing your cloud resources, and understanding your cloud spend estimates or accessing invoices is critical for many businesses. Thus far, the best way to check your billing information has been to use the Google Cloud Console from your favorite web browser. But Google Cloud users tell us that they want to be able to access billing data on the go.
Today, we're introducing a new way of accessing billing information — from the Cloud Console mobile app. Now, with your Android or iOS mobile device, you can access not only your resources (App Engine, Compute, Databases, Storage or IAM), logs, incidents, errors, but also your billing information. With these enhanced billing features, we are making it easier for you to understand your cloud spend.
Billing in the Cloud Console mobile app
With the newest app release, you can add a billing widget on the home dashboard of the Cloud Console mobile app using the "plus" button on the home screen. Whenever you open the app you will see the current spend of the selected billing account. You can also switch the active project from the home screen.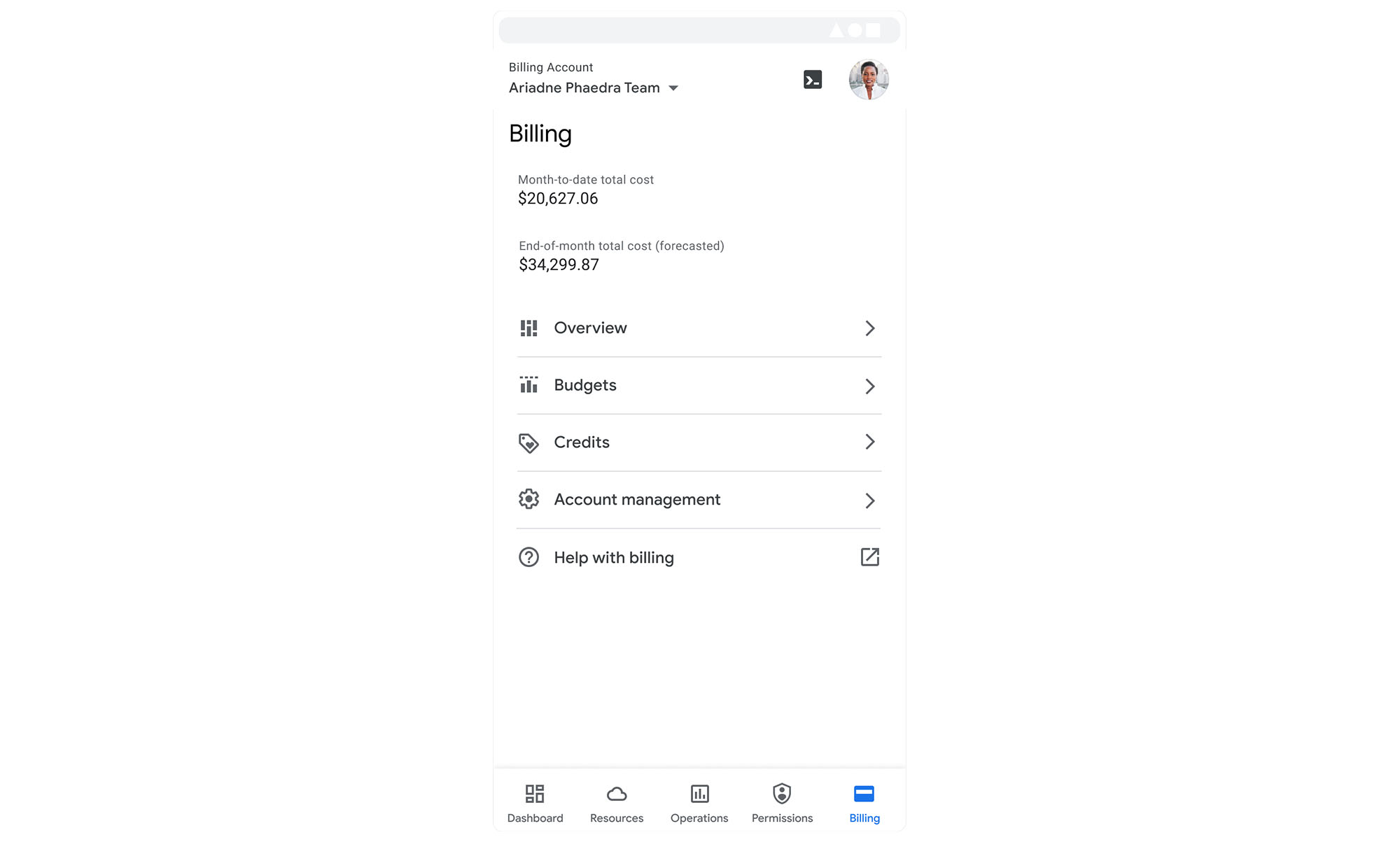 If you go from the main screen to the Billing tab you can see your cost forecast. We also added sections to make navigation easier, while the Overview screen lets you see graphs of monthly trends, costs per project or per cloud service.
The Budgets screen, meanwhile, lets you preview how each of your predefined budgets are being spent. You can learn more about Cloud Billing budgets in this blog post.
The new Credits page shows you the usage for all the credits that were ever used in your account, such as the one from Climate Innovation Challenge, and the Account management page shows you details about your billing account. You can also check the account's id, which users are managing the billing accounts or which projects are using the active account.
And if you ever need help, you can always reach out to us directly from the app using the "Help with billing" section on the Billing tab!
To summarize we've enhanced billing on your smartphone with:
Smoother navigation
Forecasted cost
Access to billing graphs
These new features are available for you to use today. If you have any feedback, we want to hear from you — just click the "Send feedback" button in the app. And don't forget to pin the dashboard card to the main screen, so you always have your billing information at your fingertips. Go ahead and download the app today from Google Play or the Apple App Store.