Storage & Data Transfer
Dell Technologies Cloud OneFS for Google Cloud, now generally available
Storage is the foundation for many enterprises' tech infrastructures, and it needs to deliver scale and high-performance. Today, we're announcing that Dell Technologies OneFS for Google Cloud is now generally available and ready for production use. This collaboration between Google Cloud and Dell Technologies helps organizations migrate high-scale and enterprise business-critical file-based workloads to Google Cloud. You can now use the power and scale of the OneFS storage technology together with the economics, capabilities, and simplicity of Google Cloud.
OneFS for Google Cloud—powered by the Isilon OneFS file system from Dell Technologies—is a highly versatile scale-out storage solution that speeds up access to large amounts of data while reducing cost and complexity. It is flexible and lets you strike the right balance between large capacity and high-performance storage, enabling enterprise and high-performance file-based workloads. This new offering combines scale, performance and enterprise-class data management features to support file workloads as large as 50 petabytes in a single file system, all while maintaining data integrity and performance.
Organizations seeking to migrate their demanding file-based workloads can now take advantage of Google Cloud's analytics and compute services without having to make changes or adjustments to their applications. Applications running in Google Cloud now have high-performance, scalable access to file data including multi-protocol support via NFS, SMB, and HDFS. To validate this, Enterprise Strategy Group (ESG) performed a performance-based technical review, achieving 200 GB/s on a 2 PB sized OneFS for Google Cloud file system. Furthermore, data migration is simplified with the built-in SyncIQ data replication capabilities, facilitating migration between cloud and on-premises OneFS clusters.
Structured pricing and performance tiers make OneFS accessible for a wide variety of workloads and budgets. Combined with Google Cloud's core capabilities, it enables key enterprise and commercial HPC applications, such as AI/ML, genomics processing for life sciences, video editing and rendering for media and entertainment, telemetry data processing for the automotive industry, and electronic design automation.
Billing and support integration for OneFS
In addition, management and operations is easier with deep OneFS integration into Google Cloud. Beyond the marketplace and networking integrations, which let you deploy and access OneFS file systems from your applications, OneFS is also integrated directly into the Google Cloud Console, billing, and support. Console integration means that storage admins and operations teams are able to provision, run, scale, and manage Isilon OneFS clusters from the same user interface used to manage all Google Cloud services. With integrated billing, OneFS storage usage is included directly in your Google Cloud bill. Google Cloud Support integration ensures that you can contact Google through familiar channels and have a single point of contact for issues. These integrations mean not only do your applications migrate to Google Cloud more easily, but your operations teams can depend on the workflows they already have in place, bringing easier overall management for your solution.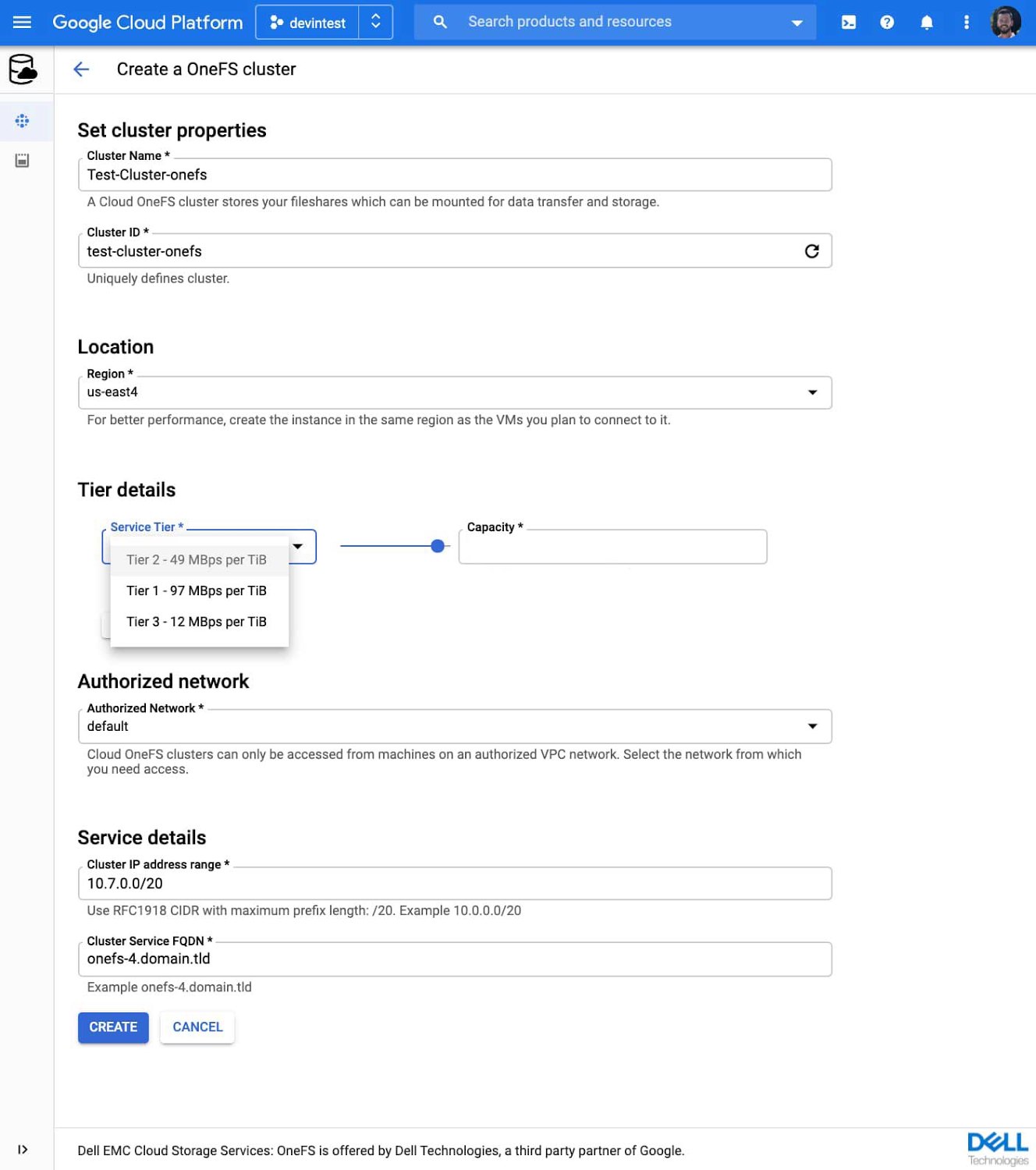 Dell Technologies and Google Cloud are committed to supporting your most mission-critical file-based workloads and are excited to enable our customers with these new storage options. OneFS for Google Cloud is available in the us-east4 (Ashburn, Northern Virginia, U.S.), australia-southeast1 (Sydney), and asia-southeast1 (Singapore) regions, with additional regions coming soon.
To get started or for more information, visit Dell Technologies Cloud OneFS in the Google Cloud Marketplace.