Google Cloud
Introducing commercial Kubernetes applications in GCP Marketplace
Building, deploying and managing applications with Kubernetes comes with its own set of unique challenges. Today, we are excited to be the first major cloud provider to offer production-ready commercial Kubernetes apps right from our marketplace, bringing you simplified deployment, billing, and third-party licensing.
Now you can find the solution you need in Google Cloud Platform Marketplace (formerly Cloud Launcher) and deploy quickly on Kubernetes clusters running on Google Cloud, Google Kubernetes Engine (GKE), on premises, or even other public clouds.
Enterprise-ready containerized applications—We are on a mission to make containers accessible to everyone, especially the enterprise. When we released Kubernetes as open source, one of the first challenges that the industry tackled was management. Our hosted GKE takes care of cluster orchestration and management, but getting apps running on a Kubernetes cluster can still be a manual, time-consuming process. With GCP Marketplace, you can now easily find prepackaged apps and deploy them onto the cluster of your choice.
Simplified deployments—Kubernetes apps are configured to get up and running fast. Enjoy click-to-deploy to Kubernetes Engine, or deploy them to other Kubernetes clusters off-GCP. Now, deploying from Kubernetes Engine is even easier, with a Marketplace window directly in the Kubernetes Engine console.
Production-ready security and reliability—All Kubernetes apps listed on GCP Marketplace are tested and vetted by Google, including vulnerability scanning and partner agreements for maintenance and support. Additionally, we work with open-source Special Interest Groups (SIGs) to create standards for Kubernetes apps, bringing the knowledge of the open-source community to your enterprise.
Supporting hybrid environments—One of the great things about containers is their portability across environments. While Kubernetes Engine makes it easy to click-to-deploy these apps, you can also deploy them in your other Kubernetes clusters—even if they're on-premises. This lets you use the cloud for development and then move your workloads to your production environment, wherever it may be.
Commercial Kubernetes applications available now
Our commercial Kubernetes apps, developed by third-party partners, support usage-based billing on many parameters (API calls, number of hosts, storage per month), simplifying license usage and giving you more consumption options. Further, the usage charges for your apps are consolidated and billed through GCP, no matter where they are deployed (not including any non-GCP resources they need to run on).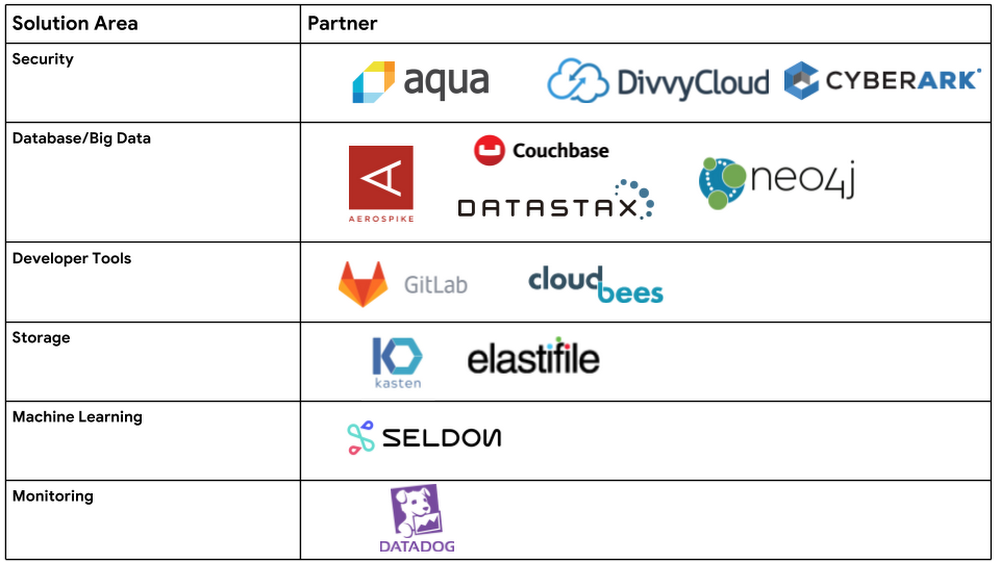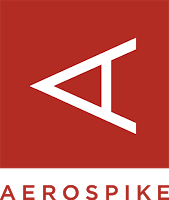 Cloud deployment and manageability are core to Aerospike's strategy. GCP Marketplace makes it simpler for our customers to buy, deploy and manage Aerospike through Kubernetes Engine with one-click deployment. This provides a seamless experience for customers by allowing them to procure both Aerospike solutions and Kubernetes Engine on a single, unified Google bill and providing them with the flexibility to pay as they go."- Bharath Yadla, VP-Product Strategy, EcoSystems, Aerospike

As an organization focused on supporting enterprises with security for their container-based applications, we are delighted that we can now offer our solutions as commercial Kubernetes application more simply to customers through the GCP Marketplace commercial Kubernetes application option. GCP Marketplace helps us reach GCP customers, and the one-click deployment of our applications to Google Kubernetes Engine makes it easier for enterprises to use our solution. We are also excited about GCP's commitment to enterprise agility by allowing our solution to be deployed on-premises, letting us reach enterprises where they are today."- Upesh Patel, VP Business Development, Aqua Security

Couchbase is excited to see GCP Marketplace continue the legacy of GCP by bringing new technologies to market. We've seen GCP Marketplace as a key part of our strategy in reaching customers, and the new commercial Kubernetes application option differentiates us as innovators for both prospects and customers."-Matt McDonough, VP of Business Development, Couchbase

With the support for commercial Kubernetes applications, GCP Marketplace allows us to reach a wider range of customers looking to deploy our graph database both to Google Kubernetes Engine and hybrid environments. We're excited to announce our new offering on GCP Marketplace as a testament to both Neo4j and Google's innovation in integrations to Kubernetes."- David Allen, Partner Solution Architect, Neo4j
Popular open-source Kubernetes apps available now
In addition to our new commercial offerings, GCP Marketplace already features popular open-source projects that are ready to deploy into Kubernetes. These apps are packaged and maintained by Google Cloud and implement best practices for running on Kubernetes Engine and GCP. Each app includes clustered images and documented upgrade steps, so it's ready to run in production.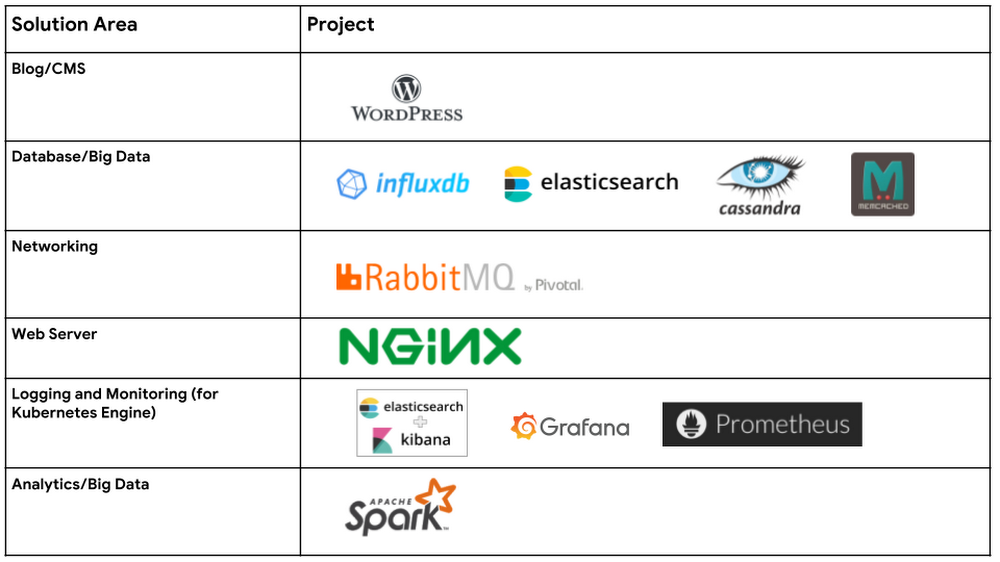 One-stop shopping on GCP Marketplace
As you may have noticed, Google Cloud Launcher has been renamed to GCP Marketplace, a more intuitive name for the place to discover the latest partner and open source solutions. Like Kubernetes apps, we test and vet all solutions available through the GCP Marketplace, which include virtual machines, managed services, data sets, APIs, SaaS, and more. In most instances, we also recommend Marketplace solutions for your projects.
With GCP Marketplace, you can verify that a solution will work for your environment with free trials from select partners. You can also combine those free trials with our
$300 sign-up credit
. Once you're up and running, GCP Marketplace supports existing relationships between you and your partners with private pricing. Private pricing is currently available for managed services, and support for more solution types will be rolling out in the coming months.
Get started today
We're excited to bring support for Kubernetes apps to you and our partners, featuring the extensibility of Kubernetes, commercial solutions, usage-based pricing, and discoverability on the newly revamped GCP Marketplace.
If you are a partner and want to learn more about selling your solution on GCP Marketplace,
please visit our sign-up page
.