Google Cloud
Google Cloud Platform partners with Splunk, BMC and Tenable, making hybrid cloud ops easier
GCP NEXT 2016 — SAN FRANCISCO — Google Stackdriver, our integrated cloud monitoring and logging service, makes IT ops across Google Cloud Platform (GCP) and Amazon Web Services (AWS) much easier. Going a step further, we're integrating with Splunk, BMC and Tenable to significantly expand the IT ops, security and compliance capabilities available to GCP customers.
Integration with rich third-party ops solutions is important for customers, and we know that many of you are already using these tools to manage hybrid operations in private and public clouds. With that in mind, these partnerships are focused on delivering:


Easy configurable integration of Cloud Platform with partners
New and complementary capabilities, specifically around Security Information and Event Management (SIEM) and compliance reporting
Google Cloud Platform and Splunk
Cloud Platform's integration with Splunk Enterprise provides insights on operations and leverages Splunk's unique capabilities around Security Information and Event Management (SIEM).
Turn on the integration by configuring real-time streaming of log data via the Google Cloud Pub/Sub API — a powerful and reliable messaging service responsible for routing data between applications at scale. Once you've configured the integration to stream all of the log data to your Splunk account, you can access the full richness of Splunk Enterprise capabilities. See the details on the partnership here.
Let's take a scenario in which a network administrator would like to monitor sensitive configuration changes to rules on your network. When an employee in your organization changes firewall rules on any server, the activity is logged by the compute service. The integration between Splunk Enterprise and Stackdriver Logging allows you to monitor such activities and get alerted in real-time. Splunk automatically identifies such interesting trends and anomalies on your system activity data. When you get alerted, you can see the chart, drill down to the actual log entry and rest any undesirable changes that might put your system at risk, thus making it more secure.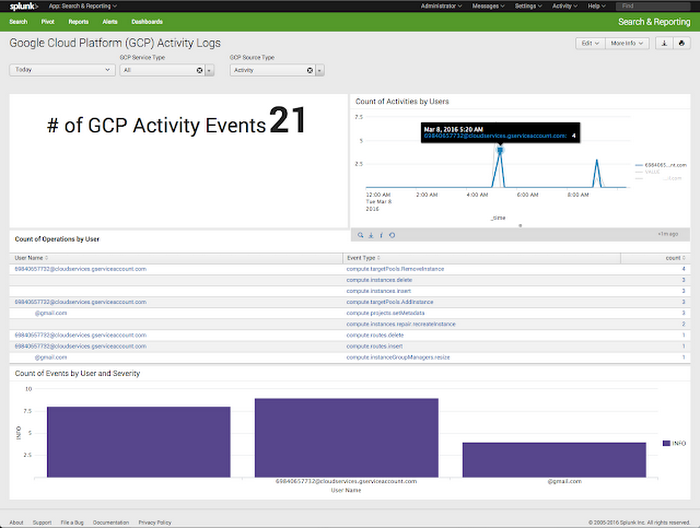 Google Cloud Platform and BMC
Our enterprise customers are increasingly building and operating hybrid and even multi-cloud environments. As you migrate existing services and launch new ones on Cloud Platform, we want to ensure that you have access to established solutions like those from BMC that provide a single pane of glass to manage and monitor applications across deployment environments and help with compliance, security and governance.
To kick off this strategic partnership, BMC demonstrated at GCP NEXT an advance version of its Cloud Lifecycle Management product managing and repairing a workload running on Cloud Platform. The company also showcased how Cloud Platform applications can be monitored simultaneously with on-premise installations using BMC TrueSight.

You can learn more about BMC's suite of solutions here.
Google Cloud Platform and Tenable
We understand that to secure your organization you have to know what applications and workloads are running in it, and who and what devices are trying to access it. Tenable helps secure Cloud Platform with SecurityCenter Continuous View (SecurityCenter CV). This solution supports both on-premises and cloud deployments like Cloud Platform. As a result, organizations familiar with this tool can employ a single technology for monitoring hybrid environments, thereby eliminating the need to buy, deploy and manage multiple tools.
To get started, you'll need to install SecurityCenter CV and create a service account within Cloud Platform and assign permissions to the Tenable service account you plan to use for the Pub/Sub topic. Then publish the logs to the appropriate topic that your Tenable account will subscribe to and you'll see the log and event data in SecurityCenter CV.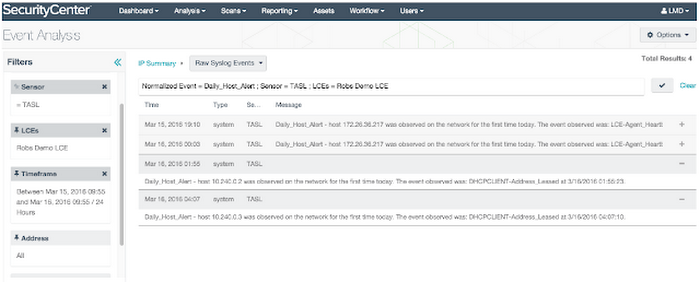 See the details on the partnership here.
Try it out today
Our vision at Cloud Platform is to create a strong ecosystem of partners that provide flexibility and richness of tools, giving you choice and eliminating constraints. Today, we expanded our partners in the ops domain. Please visit the
Google Stackdriver Partner page
to see the full details on our existing and new ops partners and how you can start using them today.
Please send any feedback to stackdriver-feedback@google.com.