Google Cloud
Dreaming big, traveling far, and expanding access to technology
Editor's note: In honor of Black History Month, we're talking to Cloud Googlers about what identity means to them and how their personal histories shape their work to influence the future of cloud technology.
Albert Sanders, senior counsel for government affairs and public policy at Google Cloud, has worked in the White House, negotiated bipartisan deals in Congress, and recently addressed the United Nations General Assembly. His personal and professional travels have taken him to five continents—and he's visited 11 (and counting!) countries in Africa.
We sat down with Albert to hear more about his journey, some of his favorite moments, and advice on navigating career.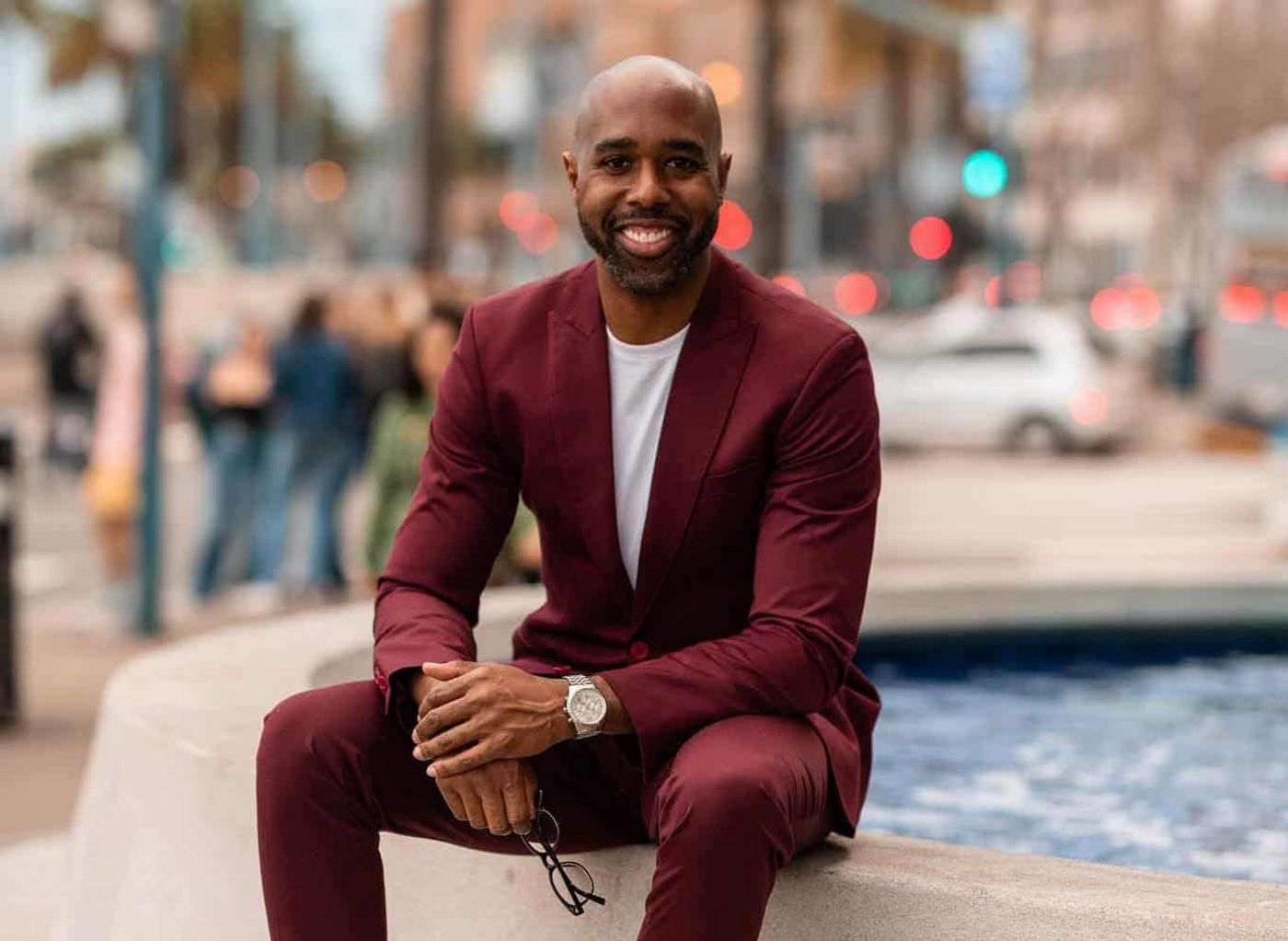 Why did you choose a career in public policy?
I've seen the real-life benefit when policymakers and government agencies get it right—and the troubling consequences when they do not. For example, I went to a high school where most students qualified for free, publicly funded meals. I didn't fully appreciate it at the time, but that meant many of my classmates were living at or below the poverty line, so school was often the only place they'd receive balanced, hot meals on a consistent basis.
We had some incredibly dedicated teachers and administrators, but my high school also operated at about double its maximum capacity. There were sometimes not enough seats or textbooks, so some of us had to stand in class and often we were prohibited from taking textbooks home.
I learned early on that the decisions made in city halls, capitol buildings, and government agencies have a direct impact—sometimes positive, sometimes negative—on real people. Later in life I'd learn that this was not just true in education but all across society. So, I knew from an early age that I didn't want to be a bystander. I wanted to have a direct impact on these decisions.
Tell us about your path to working in government.
My entree to public service was law school. I wanted to learn how the system worked, gain some expertise, and figure out how I could add value. I started out at a corporate law firm, working long hours learning the law, advising clients, honing my written and oral communication skills, and experiencing first-hand how various laws and regulations were directly impacting my clients. It was incredibly challenging and rewarding work. But, one day the phone rang with the proverbial "offer I could not refuse."
After a series of interviews, Senator Dick Durbin of Illinois asked me to join his Senate staff. At the time, he was the second-highest ranking U.S. Senator, who in 2004 had introduced a Senate candidate by the name of Barack Obama to the Democratic Convention. I was a twenty-something lawyer whose political "experience" was basically comprised of watching each one of those conventions from the age of 8—and telling my parents how to vote thereafter.
Taking the job was a no-brainer. Adjusting to the 60% pay cut that came with it was much harder. Looking back, I'm so glad that I pursued my passion and chose to follow the path that gave me a chance to have the most impact—even if that meant waiting until later to maximize my earning potential. Money is important and individual circumstances differ, but no amount of money could purchase the experiences, opportunities, or relationships that blossomed during my time on Capitol Hill.
What did you learn from your time on Capitol Hill?
Television pundits, reporters, social media influencers, folks at the barber shop and others all across America were debating the things I was working on with Sen. Durbin each day. We were working incredibly hard to improve the lives of everyday Americans. And I loved every minute of it! Some days I was working on issues about which I had deep knowledge. Other days, I worked on issues that forced me out of my comfort zone, requiring me to lean on outside experts for insight.
Both were equally valuable to my growth because they helped me build—and trust—my own instincts. I learned how to assess the character, knowledge, and motives of the external stakeholders trying to sway us one way or another on an issue. Having and exercising good judgment, especially where you have limited information or time, is a learned skill.
I also saw the power of personal stories to compel people to action. When writing policy, we would look to the facts and the figures. But when it was time to advocate and persuade, Sen. Durbin encouraged us to find and share the stories of people who would be helped or harmed by a given approach.
We did this in 2011, when I helped him build and lead the bipartisan coalition to pass the FDA Food Safety Modernization Act—the most comprehensive reform of our nation's food safety laws in more than 50 years. It would not have happened without the courageous kids, adults, and seniors who came to Congress to talk about the loved ones they had lost or the physical and emotional consequences they endured as a result of foodborne illnesses. Those compelling voices, combined with a well-organized coalition of bipartisan advocates and a handful of policymakers willing to tackle the problem, got that bill through both houses of Congress and to President Obama's desk for signature.
What was it like working in the White House?
I could talk about that experience for hours! I'll never forget the day I received the phone call offering me the job of Associate Counsel to the President in the Office of White House Counsel. I am smiling as I reflect on it now. I was pacing in my bedroom, trying to process some bad news, when the phone rang. In an instant, that call changed my mood, and the course of my career! The opportunity to work for President Obama in the White House was literally a dream come true.
My portfolio included oversight and investigations, cybersecurity and privacy, and high-stakes litigation. The substantive work was tough and invigorating, and offered an opportunity to apply lessons from each of my prior roles. The people on our team were some of the most brilliant and dedicated public servants I'd ever met. Their backgrounds and personal stories were so impressive, but I recall being even more impressed by their humility and work ethic.
Working at the White House involved late nights, long weekends, and its fair share of stress. But I was reminded of the privilege I had and the gravity of my responsibility every time I parked my car on The Ellipse, chatted with Secret Service agents as I swiped my badge or gave a West Wing tour. I'll never forget the smiles on the faces of the D.C. high school students we hosted in the basement bowling alley one weekend. Some of them came from high schools similar to mine, and I could see in their eyes just how special this moment was for them.
We heard you have a goal to visit every African country. Can you tell us more?
I do! That's another topic I could speak on at length. I've been to 11 countries in Africa so far, and my goal is to spend quality time in all 54.
My first trip was to South Africa several years ago. During that trip, we would barely scratch the surface of the culture, history, energy, challenges and opportunities of this beautiful, complicated county. But the depth of connection we felt, the openness of the people, and the overall richness of that initial experience made a lasting impression.
I've tried many times—often unsuccessfully—to explain the special connection that I and many other African Americans feel to the continent of Africa. Many Americans may take for granted that they can trace their family origins to places outside the United States. One of the many enduring legacies of slavery is that most African Americans don't have that direct connection to their family history. We were the only group of people to arrive on American soil en masse against their will, and it's often difficult to trace family history even four or five generations. This creates a void that is often uncomfortable to discuss, because it's a stark reminder of the present-day impact of our nation's brutal history.
Traveling through Africa is intensely personal. It's a way to connect with a rich and textured personal history about which so many of us know so little. My visits are, in some ways, a small, personal tribute to that history and those who lived it. I may not know the names of my ancestors or the place of their birth, but I'm reminded regularly that they passed on to us a resilience, faith, and determination that could not be shackled. When they were praying for freedom in the bowels of a slave ship, nursing wounds from a vicious beating, or hoping for a better tomorrow—those prayers and hopes were for my generation and all the others that have followed. I stand on their shoulders and I can only hope that I make them proud.
Traveling through Africa is also just incredibly fun. Every country I visit is packed with new discoveries, incredible adventures, amazing food, unforgettable people, rich culture and so much more! I've walked with gorillas in Rwanda's Volcanoes National Park, scaled Sahara Desert sand dunes in Merzouga, Morocco, and I've run my fingertips over the hieroglyphics on Nubian Pyramids in Meroe, Sudan. I celebrated Eid al Fitr, the feast that marks the end of Ramadan, in Dakar, Senegal with a family who met me one day and welcomed me into their home the next. And I'll never forget standing in the doorway and looking out into the expanse of the Atlantic Ocean from the Point of No Return at Cape Coast Castle in Accra, Ghana—the very same doorway through which many enslaved Africans began their horrific journey to the United States 400 years ago.
How have your experiences shaped your work at Google?
As the lead for global infrastructure public policy, I partner with subject matter experts, attorneys, engineers, and other Googlers from all over the world. Ultimately, we strive to help more people benefit from cloud computing.
There used to be a huge technology barrier to building a business. With cloud computing, all you need is an internet connection and you can have the same computing power, data analytics, artificial intelligence, and secure infrastructure that powers Google products like Gmail, YouTube, and Google Maps. Google Cloud tools don't only improve business outcomes, they expand technology access—and thereby opportunity. I'm pleased to help bring our cutting-edge technology to more organizations globally and support policymakers, NGOs, and other organizations that leverage our cloud tools to drive innovation, improve local economies, and enhance digital literacy.
For someone so passionate about public service, moving into the private sector was definitely a change. But I continue to be guided by a personal mission statement of working for individuals, or in the case of Google, a company, with a mission I support and values I share.
Do you have any career advice to share?
Along with following a personal mission statement, I've gotten other advice from mentors and colleagues. First, it's important to embrace the uncomfortable and unprecedented. Three years ago, I was the first hire on the public policy team for Google Cloud. Since then, our team has experienced exponential growth and global distribution. I still remember some of the early challenges, but it's been an incredible journey and I'm happy I stepped up to the plate.
Second, don't be afraid to advocate for yourself. Suffering in silence or being reluctantly agreeable doesn't win allies. It only builds internal resentment and deprives your existing allies of the opportunity to help you resolve issues.
Third, representation matters. One of the reasons I do my best every day is because I'm aware that I must excel for myself—and for other people of color who are still terribly underrepresented in our industry. I appreciate Google's various initiatives to address this issue. I'm committed to doing my part to support those efforts, ensure accountability, and demonstrate through my own work product and work ethic what's possible when diverse perspectives and people have a seat at the table.