SAP on Google Cloud
How SAP on Google Cloud is helping Multipharma manage change
In this period of uncertainty, businesses everywhere are facing increased pressures and rapid change. Multipharma is no exception. As Belgium's largest pharmaceutical retailer, Multipharma is feeling the impact of change as much as anyone, now operating at the core of a global pandemic.
While deeply focused on its core pharmacy business with warehouse and production centers for medicine preparation and repackaging, Multipharma is also a retailer. To thrive as a retailer while managing changing customer expectations and intense competition, Multipharma determined they needed to replace their legacy merchandising system with a modern, industry specific solution for their retail landscape. Multipharma chose SAP S/4HANA Retail, electing to deploy it in the cloud for elasticity and scalability it offers.
In this blog post, we'll explore how Mulitpharma have positioned themselves ready for change in the complex retail pharmaceutical market and why they chose Google Cloud as their hyperscaler partner for this critical transformation.
The Need for Change
With over 270 retail outlets, 1,700 employees, a state of the art warehouse and three product packaging and preparation centers, Multipharma is the largest pharmaceutical retailer in Belgium. For Multipharma, providing excellent service to their diverse customer base is a top priority, and over their 60 year history, they've expanded their pharmaceutical offering to include a full set of services such as nicotine management, weight loss coaching, and other wellbeing, health and beauty services.
To compete against new upstarts and industry disruptors with mail-order and online capabilities, Multipharma determined they need to rethink how they deliver complete care for their customers. They needed to be prepared with a comprehensive retail platform that could deliver on retail core processes end to end—from master data entry and product listing, through promotion execution and price maintenance, to point-of-sale accounting. For this task, Multipharma chose SAP S/4HANA for Retail.
Where to run S/4 was the next question. Multipharma knew that managing their own SAP hardware was neither cost effective nor a good choice for the agility, security and availability they needed. When it became clear that their current private cloud provider was not up to the task, Multipharma kicked off an effort to find a better alternative.
Why Google Cloud for SAP
Multipharma's executive and IT teams performed an extensive evaluation of the top three public cloud providers for their comprehensive SAP deployment. After careful review, Multipharma selected Google Cloud because it could deliver on all key criteria (see figure below).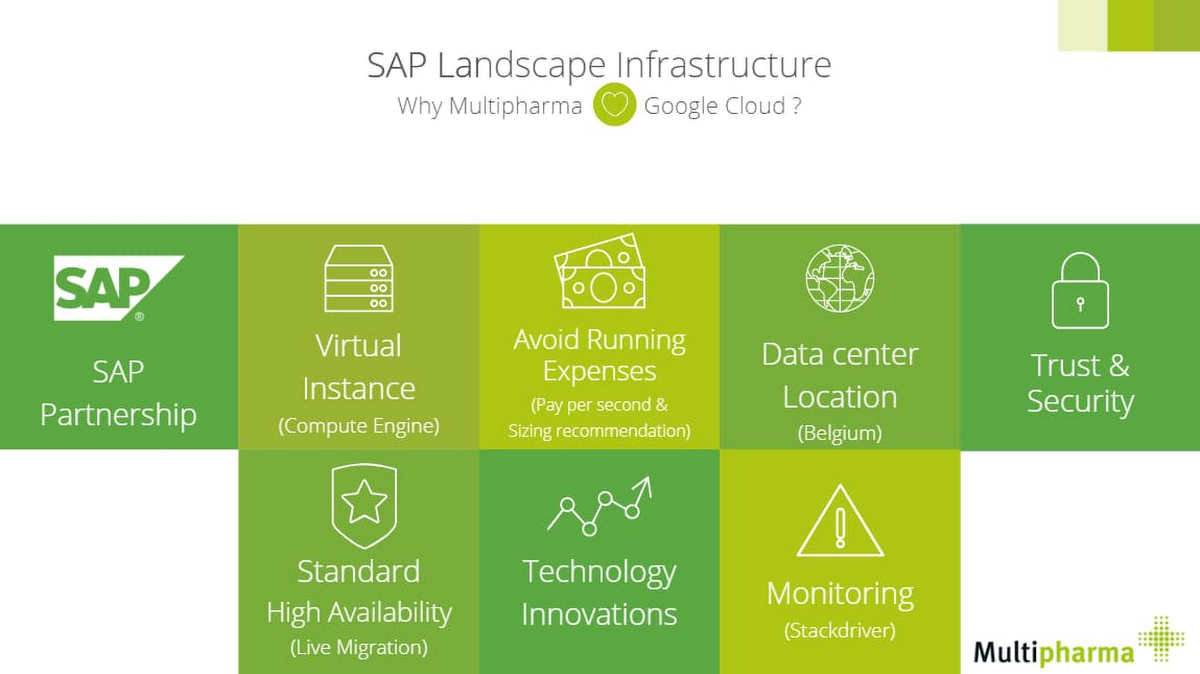 "Setting up SAP Test and Deployment environments on Google Cloud is really easy," says Kevin Moens, Lead Enterprise Architect at Multipharma. "In terms of business impact, that means we can be more flexible and move fast when we need to, delivering new initiatives efficiently." Moens also calls out Google Cloud's security features: "Using Google Cloud supports us in meeting our European data storage regulatory requirements. Its encryption of data in transit and at rest was a decisive factor in our choice of cloud provider."
Ready for business challenges of the future
The first step in Multipharma's journey is to migrate its legacy retail system to SAP S/4HANA. Together, Google Cloud, SAP, and Multipharma's IT teams architected a three-layered solution. The business layer will house S4/HANA Retail, SAP CAR (Customer Activity Repository) and BW on HANA for BI. The integration layer will house Process Orchestration, Data Services and SAP Landscape Transformation Replication Server (SLT). For the management layer, SAP Solution Manager and Landscape Management (LaMa) will be deployed. This complete architecture is expected to go live later in 2020. Running these key SAP applications in Google Cloud will afford them many strategic advantages:
Reduced costs. The pay-per-use model offers Multipharma many ways to significantly reduce costs, such as the ability to turn off non production systems at night and on the weekends.

Increased flexibility. Google Cloud's fully virtualized infrastructure positions Multipharma to quickly adapt to changing business conditions such as a global health crisis as well as pivot to services like in-home medication delivery.

Real-time inventory management. For both physical stores and omnichannel, Multipharma will have complete visibility into its stock positions.

Security. Google Cloud encrypts data data in transit and at rest by default—a key consideration for Multipharma.

High availability. Cloud Load Balancing lets Multipharma balance its compute resources over a single or multiple regions, and plus Live Migration which offers them zero downtime infrastructure maintenance.
Additionally, Multipharma intends to take advantage of Google Cloud Pub/Sub, a fully-managed real-time messaging service that allows you to send and receive messages between independent applications. Along with Google App Engine, they will leverage Pub/Sub for message integration between point-of-sale systems and their new SAP landscape for custom integration monitoring.
"We chose Google Cloud not only because it offers per-second billing, but also because of the investment Google is making in innovation," says Kevin Moens, Lead Enterprise Architect at Multipharma. "We want the flexibility to access additional security and infrastructure services in the future."
By running SAP S/4HANA for Retail on Google Cloud, Multipharma will be well positioned to leverage their extensive retail footprint and customer proximity to explore new services such as at-home delivery. They also plan to deepen their omnichannel experiences (in-store and through digital customized patient coaching), as well as business and marketing activities around medication stock and inventory.
Watch and learn more about how Multipharma transformed its retail processes with Google Cloud. Or hear from more customers innovating with SAP on Google Cloud.