Infrastructure
Helping small business customers think big with help from cloud technology
Editor's note: Keap selected Google Cloud initially to overcome scalability issues related to on-premises data centers. Here, we'll look at how moving to the cloud helped Keap overcome those challenges with a whole range of Google products to bring always-on, mission-critical services to its users—and free up the time and resources to develop and push their services further.
Keap provides the technology and services that help small businesses accelerate growth with an all-in-one customer relationship management (CRM), sales, and marketing automation solution. With more than 200,000 users, we also provide the support, coaching, and access to partners that our customers need to help make entrepreneurship a reality. We've migrated our infrastructure to Google Cloud, and also take advantage of the broader Google ecosystem to serve our customers and help them grow. With Google Cloud, we've saved time, effort, and cost to scale compute resources, so we can now stay ahead of customer demand and use our valuable DevOps time to modernize our apps and technologies. We've added redundancy, security, and the best options to work with our open source products.
Turning to cloud to simplify and scale
Recently, we needed to address infrastructure challenges with our multiple on-premises data centers and disparate technologies, which had become painful and costly to manage. We'd hit a difficult point in scaling our infrastructure—it was taking us a long time to spin up servers. It was resource-intensive, and we had redundancy and disaster recovery challenges. Scaling resources to keep up with our growing customer demand was taking too much time, effort, and cost. However, our engineering teams wanted to focus those resources instead on DevOps to modernize Keap's own applications and technologies.
Also looking to improve security and redundancy in our architecture, our leadership team was weighing the business potential of emerging cloud products. We decided that moving to the cloud would help us overcome the challenges of our on-premises infrastructure while reaping powerful new benefits for the overall business.
We considered AWS, where we already had a few components, Azure, and Google Cloud as providers. Ultimately we chose to migrate everything over to Google Cloud for its cost-effective pricing, impressive security capabilities, and flexible tools that would work with our open source products. Google Cloud stood out with its partnership approach to our digital transformation—our employees wanted to work with the Google Cloud team because they were so passionate about helping us meet our specific needs, and they've lived up to that promise.
With Google Cloud, there are so many different offerings they bring to the table that they go beyond the typical vendor relationship. It's a true partnership.
Migrating, modernizing, and streamlining with cloud
When we evaluated public cloud providers for migrating all workloads from data centers to the public cloud, Google Cloud stood out for going above and beyond other providers in helping us identify our path to successful migration. Overall, our teams found the cloud transition remarkably smooth—it took about three months—and immediately we began to reap significant business benefits. Our uptime has improved, we've added capacity to our customer solution more efficiently, and it's given us confidence in our scalability. Not to mention it brought an overall cost advantage, and far better peace of mind than our old hosting approach.
Adopting Google Cloud has already helped us modernize in a few key areas:
Infrastructure. We used a lift-and-shift approach to replicate our on-premises workloads, data stores, and infrastructure in Google Cloud. We chose Google Compute Engine to give our users a faster, more efficient way to spin up virtual machines on-demand and Google App Engine to develop and host web applications in data centers managed by Google Cloud. Our engineers really enjoyed developing solutions on App Engine.
When we first got started, we took advantage of Google Cloud's support of common tooling and open source capabilities that allowed our teams to use their existing skills with no need to learn a completely new tech stack. This approach helped us eliminate the need for disparate technologies and streamline their management. Now we could easily scale our infrastructure to support business applications or meet spikes in traffic or demand, without wondering if we had staff on hand with the right skills, training, or qualifications. We could offload all this to Google Cloud, helping us minimize the day-to-day management burden—and the overall risk to the business. Moving to the cloud improved our uptime and helped us efficiently add capacity. We also benefited from cost savings over our on-premises model, and moving to the cloud has given us more confidence in the long-term scalability and dependability of our operations.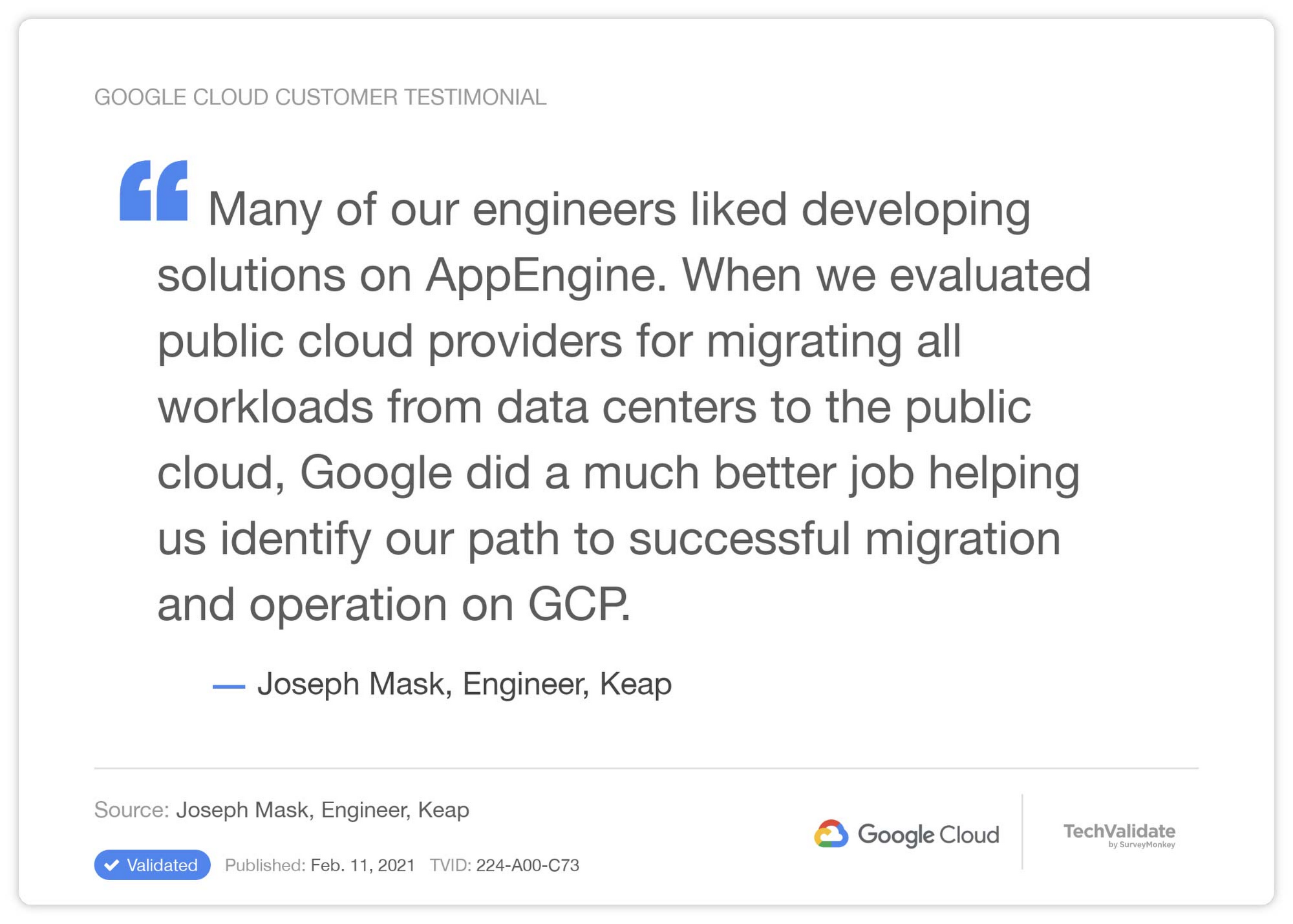 Data analytics and visualization. Before Google Cloud, our internal team of business analysts relied upon a largely manual approach to analytics and reports, pulling data from various sources and cobbling them together. This time-consuming and inefficient process didn't bring the real-time insights we needed to quickly react and drive the business forward.
We chose to modernize our data stack in order to give our analysts valuable time back while also increasing employee access to trusted, actionable insights—which we knew would help create increased efficiency and opportunity throughout the business. We chose BigQuery, Google Cloud's serverless, multicloud data warehouse, to store and analyze data. Our team also selected Looker's modern business intelligence and data application platform to provide self-service access to consistent metrics and actionable insights. While we initially planned to build a platform in-house, we've discovered we can leverage the power of Looker while still maintaining the control and customization we need. Looker has contributed to the growth of our data culture here at Keap by helping to deliver the right data to the right people at the right time—in a way that works best for their workflow. For example, our management team especially loves the ability to access Looker directly from their mobile devices so they can make data-informed decisions from anywhere. In addition to the majority of Keap employees now leveraging Looker on a daily basis, we've also used Looker to provide our customers with powerful reporting and visibility into their organizations.
Now, our data analysts can devote their time to more strategic analysis instead of constantly running reports. We can ask more complex questions that give us deeper insight into our business and a greater understanding of our customers. Our data team has now transformed from a cost center to a team focused on revenue-generating opportunities, for example, providing embedded analytics to customers as a valuable opportunity to increase overall satisfaction and create upsell.
API management. Keap also uses Google's Apigee API Management Platform to improve the way our teams design, secure, and manage our APIs—and to create new experiences our customers love. We get about 18 billion API calls from partners every year. Before Apigee, we had disparate policies for each API, and a legacy API management platform that couldn't keep up with the traffic. But we were able to transition our API traffic to Apigee with no disruptions in performance.
Apigee streamlined and standardized development processes and enabled our developers to apply global security policies and other controls to all of our APIs. With Apigee's hosted environment, our developers had a more efficient way to build apps and services and then create and manage APIs for them. We're now also better able to monitor, throttle, and analyze partners' use of our APIs. Our partners have noticed the improved speed and performance that has been enabled by Apigee—our APIs perform two to three times faster now.
With Apigee, we're currently exploring new ways to monetize our API traffic as an entirely new revenue stream for us. Potential strategies include charging for the API, using APIs to drive traffic to our marketplace, and upselling premium subscription packages.
Exploring a world of products for a better customer experience
Once the migration was complete, we discovered additional ways we could use Google products—beyond Google Cloud—to improve our business processes and help our employees become more efficient and effective. With Google, we have the ability to run sophisticated marketing campaigns using the entire Google ecosystem, including YouTube, Google Analytics, the Google Display Network, Discovery Ads, and even the Gmail messaging app. We've integrated first-party data into Google Analytics 360 to gain a more complete picture about traffic conversion.
We also use Google Workspace within our own CRM product. For example, many of our small business customers already use Google Calendar or Gmail and wanted to keep those solutions. This integration makes Keap's CRM solution much more effective since our customers can send emails and schedule follow-up appointments on their Google Calendar directly within the Keap CRM.
Charting the road ahead
We're currently planning a major move of all our services to Google Kubernetes Engine to take advantage of its open source container orchestration platform and improve the way users deploy, manage, and scale containerized applications. We're confident that the use of containers and microservices will provide much more visibility into specific products, services, and applications, which will be critical in minimizing potential degradation or disruption of service.
We like the opportunities we see ahead with Google Cloud, which offers so many different options. We love having so many solutions available to us through one vendor. Partnering with Google Cloud has given us more than the typical vendor relationship, and we look forward to working with them to identify even more opportunities to grow our business.
Read more about Keap and their CRM solution. To learn how other companies modernized their business intelligence with the BigQuery and Looker combination used by Keap, read our recent blog.