AI & Machine Learning
Survey says: Machine learning happening now and paying off
New research suggests that machine learning is more prevalent than you'd think.
The machine-learning era is already in full swing, a recent survey conducted by MIT Technology Review Custom in partnership with Google Cloud reveals.
Researchers asked 375 business and IT leaders from a variety of organizations around the world about their use of machine learning. Results include:
Fifty percent of machine learning implementers can quantify ROI from their investment in machine learning, with half calling that ROI recognizable even at an early stage.
Sixty percent of respondents have machine-learning strategies in-flight, and nearly one-third characterize their initiatives as "mature."
Competitive advantage ranked among the top goals of machine-learning projects for 46% of current adopters and 48% of planners. Twenty-six percent of current adopters said they've already gained a competitive edge from machine learning.
Investment in machine learning is growing, with 26% of respondents committing more than 15% of their IT budgets to machine-learning projects.
These results suggest that machine learning is becoming more commonplace, powering everything from fraud detection and recommendation engines to medical-image classification and aircraft scheduling. Across all these use cases, the premise is the same: As machine-learning models ingest and process large amounts of data, they get better and better at seeing patterns as well as the human eye but at a far greater scale. This capability can help many businesses unlock automated predictive-analytics capabilities, leading to smarter decisions, new operational efficiencies and better customer experiences. And that's why machine learning provides ROI, which more than half of survey respondents said they can already demonstrate in their machine-learning projects.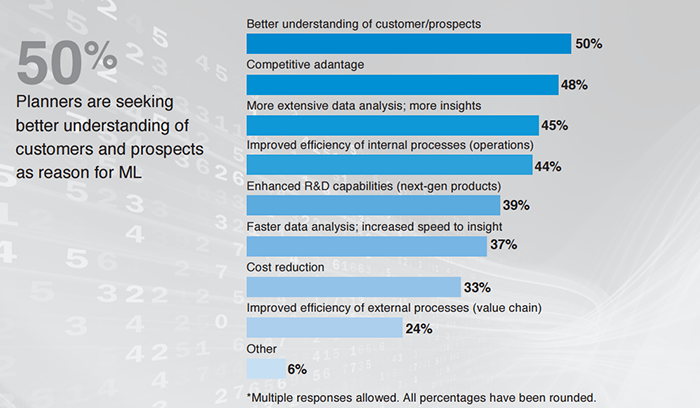 Furthermore, among the respondents, nearly all (95%) have already embraced some form of big data technology (such as Apache Hadoop), or plan to do so.
This result suggests widespread adoption of big data analytics strategies that often culminate in machine-learning initiatives. At the same time, only 14% have quantified the ROI from such projects, a likely reflection of the complexities and lengthy adoption cycles that can be associated with on-premises deployments.
For more details about this research, access the complete report on the MIT Technology Review survey, conducted in partnership with Google Cloud.