Chrome Enterprise
Modernizing security with cloud native computing
Editor's note: In today's guest post, Nick McQuire, vice president of enterprise research at CCS Insight, shares more on how the choice of device platforms can increase enterprise security.
Data security has become more challenging than ever in the modern enterprise. The accelerating use of cloud applications and mobile devices by today's cloud workers has eroded the traditional security perimeter of the enterprise, and with it, the control of company data.
Faced with a daunting combination of external and internal IT security challenges, as well as a need to deliver a high-quality employee experience, organizations are re-evaluating their strategies for IT security—and, specifically, device computing.
Emerging cloud native devices can help organizations overcome some of the most significant security and administrative challenges, improving on the inflexible systems of the past. Above all, they can help ensure that highly-mobile cloud workers have a better, more productive and secure experience in the digital workplace.
Modern working exposes many more external security risks
Evolving employee workstyles has meant that an increasing amount of corporate data now travels outside the corporate firewall. According to CCS Insight's research, employees use six-to-seven mobile cloud apps on average for work purposes, an increase of about 50 percent annually. This includes many consumer apps and dominant third-party applications such as WhatsApp, Microsoft Office 365 and Google's G Suite (see below).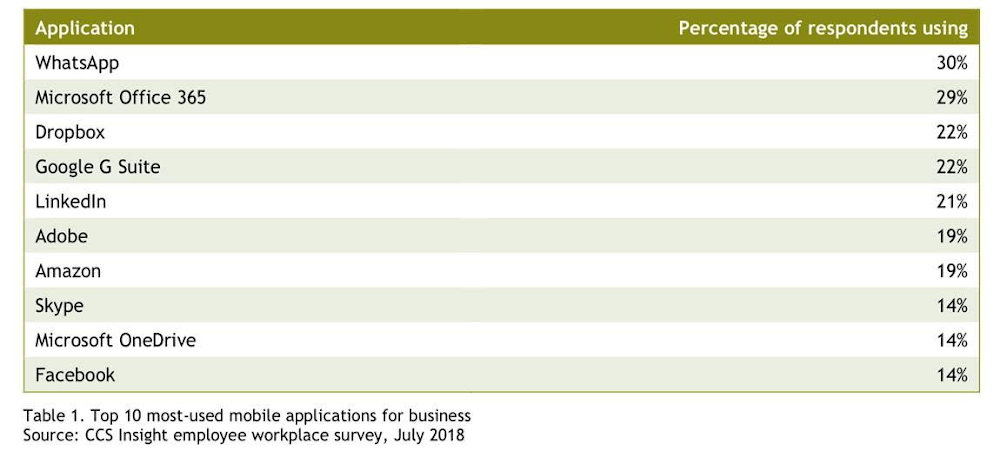 It only takes one employee to install an infected application to put the organization in jeopardy, and this risk is magnified when applications are unmanaged by corporate IT departments.
The consequences are getting bigger
The financial and reputational costs of a breach are also mounting. The World Economic Forum estimates that cybercrime costs the global economy $445 billion a year, while Danish transport and logistics conglomerate Maersk stated that the NotPetya attack in 2017 had cost the firm over $250 million. The introduction in 2018 of Europe's General Data Protection Regulation (GDPR) and California's Consumer Privacy Act brings the potential for further costs in the event of a serious data breach.
But it's not just external threats to worry about
Firms are facing internal challenges as well. As part of the fabric of operations inside most businesses—and in many cases performing critical tasks—older technology systems often pose security risks to companies through being an attractive target for hackers.
Nowhere is this more evident than when it comes to company devices. CCS Insight estimates there are more than 300 million corporate PCs in use that are over four years old. As the ransomware attacks of NotPetya and WannaCry illustrate, it is often older, unpatched devices and systems that are the most vulnerable to cyberattacks.
Additionally, many IT departments administer devices using older management tools and processes. These can involve time-consuming and often manual procedures to set up devices, configure software and maintain antivirus protection—all of which can inhibit response times when problems occur.
For most firms, identifying and remediating cyber-threats today feels like a "needle in the haystack" affair, difficult to solve with current resources and technology.
Improve security with cloud-based device computing platforms
We believe organizations can overcome these challenges over the next 12-18 months by redesigning their end-user computing environment to support cloud-based operating systems and devices, bringing a range of management, security and cost benefits. Unlike traditional PC client systems, these platforms are designed for the cloud, offering a consistent flow of new features that help ensure that today's highly-mobile cloud workers have a better and more productive technology experience.
We see five key elements of these solutions, which collectively form a crucial aspect of the future of end-user computing:
Connectivity. According to our surveys, employees consistently list slow speed and poor connectivity as their biggest frustration with workplace technology. Cloud-based device platforms are "always on", with regular, automatic updates and a flow of new features supplied from the cloud. As a result, these platforms are fast, lightweight and reliable, with improved performance and protections against device obsolescence.

Scalability. One of the unique advantages for IT administrators is that cloud platforms are scalable in terms of management. They offer centralized device management for set-up and configuration and include a range of PC management and policy enforcement features, integrating with existing IT security infrastructure such as identity management and VPN systems.

Flexibility. Cloud-based devices add flexibility to an organization's device strategy by supporting multiple use cases, with shared computers, kiosks and single-task devices all on a single platform. This can help the repurposing of devices, reduce the breadth of devices owned and lower hardware costs.

Financial benefits. We've seen organizations achieve more than 300 percent return on their investment within three years through a commitment to cloud-based device platforms. In some instances, they have also lowered their device costs by as much as 60 percent and reduced traditional PC management costs by as much as 40 percent.

Security. One of the most attractive benefits of cloud-based device platforms is that they provide a range of security and administration features that span hardware, the operating system and applications. Dedicated processors, verified boot with partitioning, sandboxed applications and automatic OS updates deliver security key benefits. This means up-to-date security through system updates and security patches, usually delivered within 48 hours to devices that can be supported for more than five years. This also means ongoing prevention, detection and removal of malware, and automatic embedded security that minimizes friction for device users, making it easier for non-technical workers to protect data against the latest security threats without compromising their productivity or device experience.

What should you do?
To many businesses, identifying and remediating cyber-threats can feel like an impossible task that's unachievable with limited resources and aging technology.
However, modern, cloud-based device computing platforms can be an effective solution to major security problems. To be successful and maximize your return on investment, IT decision-makers should follow our top four recommendations for end-user computing strategies:
Prioritize a secure user experience for cloud workers. Evaluate devices and platform technologies that can simultaneously improve the user experience and offer the right balance between a productive experience and robust security.

Improve security by accelerating PC upgrades. Consider the advantages of cloud-based operating systems and devices as a means to continually improving organizational security.

Consider device platforms that deliver in three key security areas. Evaluate suppliers' long-term support for regular, automatic updates with new security features; the ability to rapidly minimize the threat posed by malware; and frictionless security features that don't impede employees' productivity.

Train employees on security risks. Security at a technology level is not enough to fully protect an organization; many businesses do not do enough to train employees about cybersecurity risks. Training is important for all organizations because employees are the most critical line of defense.

Read more in our report, Modernising IT Security.