Chrome Enterprise
Blue Cross Blue Shield of North Carolina: How we increased security and productivity with Chrome Browser
Blue Cross Blue Shield of North Carolina (Blue Cross NC) has been the state's leading health insurer since 1933, and has remained a leader for almost a century because of our commitment to quality, affordability, and exceptional healthcare services.
We're committed to improving all aspects of the healthcare system, which is a goal that's not without its challenges. But we believe in the importance of investing in modern technology because it helps us deliver a quality and trusted experience for our customers that better meets their healthcare needs. For us, that has meant investing in reliable technology that supports more efficient internal processes. And one of the largest problems our organization faced in terms of outdated systems was our organization's default web browser.
Much of our workforce was using Internet Explorer and Microsoft Edge, and our IT team was having difficulty in keeping them properly updated as recommended, resulting in poor performance and unreliable response to daily applications our employees needed to use. We soon realized we needed to implement a modern browser solution that could accommodate both new and legacy applications, while providing the necessary security precautions, and improving employee productivity.
To determine which browser would be best for our enterprise needs, we tested the following parameters across six major browsers:
Operating system support

Extensions library

Enterprise security

Search engine

Accessibility features

Layout engine

Browser features

Technology support
In all our tests, Chrome Browser came out as the logical choice. During our testing, Microsoft also announced they were adopting Chromium to develop their latest version of Microsoft Edge.
To get started, we set up a Chrome deployment workshop, which allowed us to educate our end-user computing team on how to roll out Chrome Browser across our enterprise without impacting our day-to-day business. Our administrators learned all the features offered through the Google Admin Console, how they would be rolled out, and how each adoption would be facilitated. This meant there would already be strategies in place for our administrators with installations, update policies, Chrome Browser updates, and maintaining user accounts.
We also learned about the various release channels for Chrome Browser, ranging from the most stable and tested (Stable channel) to completely untested, and likely least stable (Canary channel). This gives us better control over how we approach roll-outs. For example, to enable our pilot users to verify that their applications are compatible with a Chrome version before we roll out the Stable channel, we use the Beta channel. Here's how we do it.
Beta channel—If you are interested in seeing what is next, with minimal risk, Beta channel is the place to be. It's updated approximately every week, with major updates occurring every six weeks. This is more than a month before the Stable channel is updated, which gives us time to test out new features and functionality.
Stable channel—This channel is what we roll out to all users. It's been fully tested and blessed by the Chrome test team, and is updated approximately every two to three weeks for minor releases and every six weeks for major releases at the enterprise level.
Since rolling out Chrome Browser involves all layers at Blue Cross NC, we have partnered with many internal departments in our organization to ensure that this implementation is smoothly integrated with all technology needs company-wide. We were able to get alignment and support of our development community, desktop infrastructure team, enterprise security, enterprise architecture, application and business owners, information service delivery, and communication and pilot users. Our established plan for roll-outs are the following: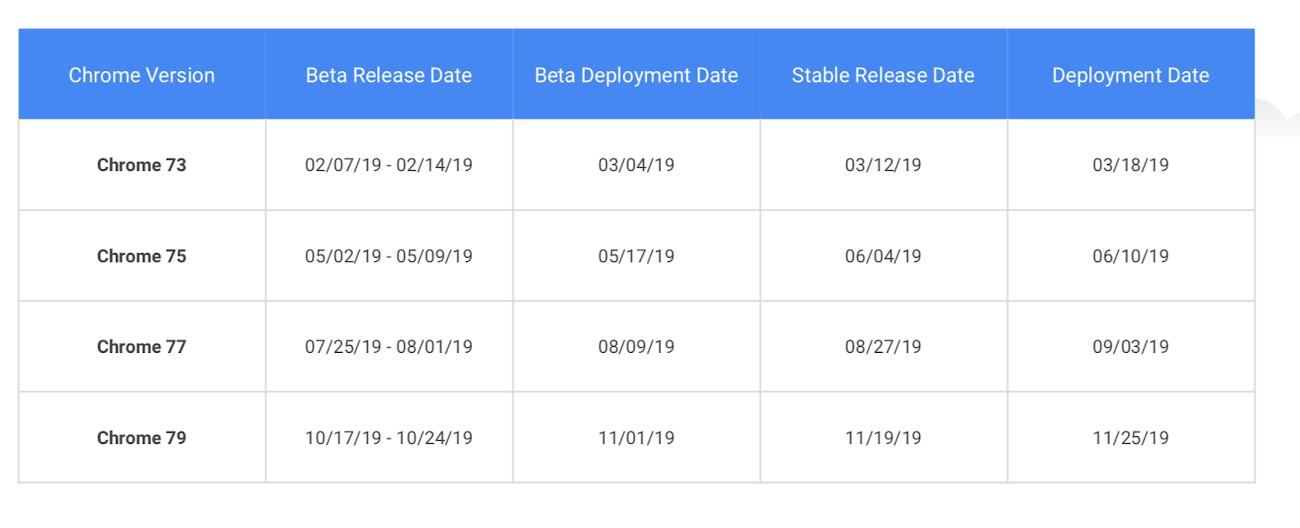 Also, we were thrilled that, by configuring the Legacy Browser Support Chrome Extension, we were able to seamlessly support legacy applications that we rely on for our day-to-day business needs. During our roll-out, we had to configure only six out of 1,200 applications, and all six are successfully accessible by using Legacy Browser Support.
Finally, adopting Chrome Browser for enterprise has helped us improve our security by providing helpful warnings, blocking outsiders from phishing, and locking out dangerous sites
Adopting Chrome Browser for enterprise as our primary browser has hugely helped our IT's teams ongoing digital transformation, while improving our organization's security, productivity and efficiency. It's also offered Chrome DevTools for the developers in our community (UX designers, UI developers, front-end developers, quality assurance, middleware developers, and mobile developers), allowing us to deliver our customers services much more efficiently than before.
If you're interested in a more in-depth look at how we moved to Chrome Browser, you can also check out my Google Cloud Next' 19 session: Making Chrome Your Primary Browser.
BLUE CROSS®, BLUE SHIELD® and the Cross and Shield Symbols are registered marks of the Blue Cross and Blue Shield Association, an association of independent Blue Cross and Blue Shield Plans. Blue Cross and Blue Shield of North Carolina is an independent licensee of the Blue Cross and Blue Shield Association.