Chrome Enterprise
Chrome Insider: What's new in Chrome Enterprise, Release 75
Updates in Chrome 75 offer a number of features that make managing and securing Chrome Browser or a fleet of Chrome devices even easier.
For the full list of what's new, and more detailed descriptions, be sure to read the release notes.
Increase transparency for enterprise users
Letting enterprise users know how their browser and OS are managed by an organization can help them understand whether their administrator has set up or restricted certain features, installed extensions, configured printers, or is controlling other settings. In Chrome 73 we introduced a feature to allow users in enterprise environments to see if their browser is managed, adding to an existing feature for OS.
In Chrome 75 we're enhancing the visibility features for both browser and OS with transparency view, a new view which shows users the extent to which their device and account are managed by their administrators in enterprise environments. The new transparency view focuses on reporting functionality ("Which data is visible to my administrator?") as well as force-installed extensions ("Which data may be accessed by force-installed extensions?").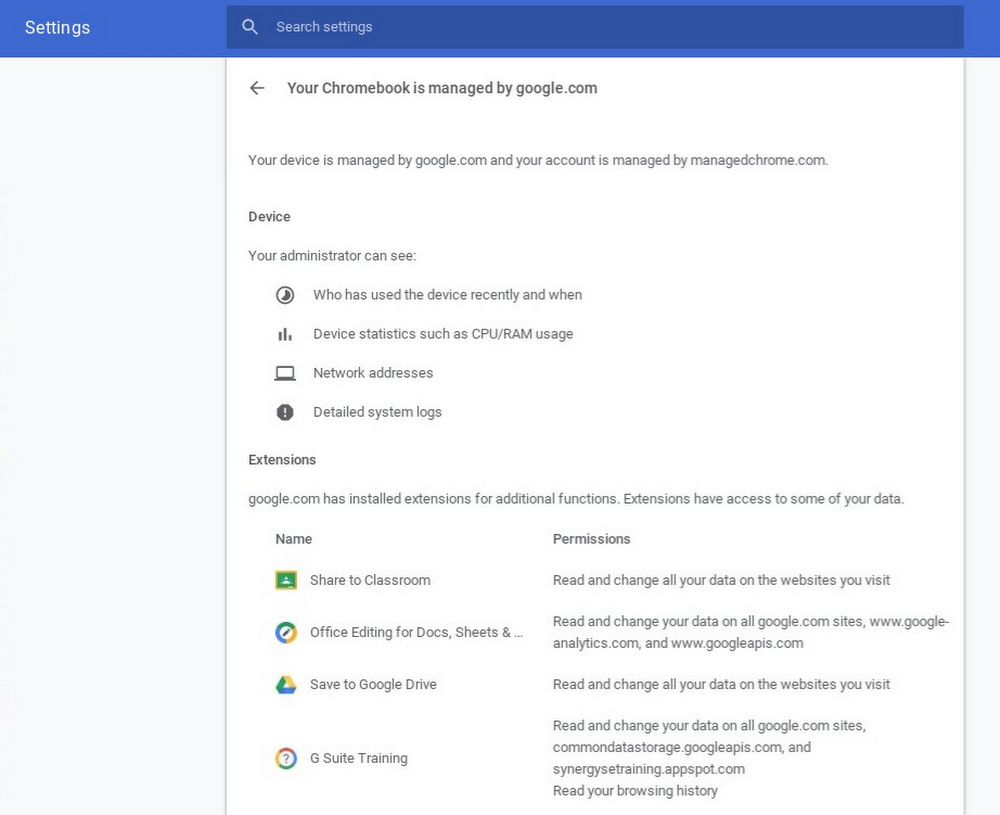 Manage rollback with Chrome Browser on Windows
Sometimes browser updates need to be rolled back due to unexpected impacts on mission-critical app compatibility or workflow issues. And we've heard from some administrators that the current manual process of uninstalling new versions and reinstalling older versions can be tedious and error-prone.
To help, we're introducing a new policy in Chrome 75 which provides a more automated rollback process on Windows. This will allow more targeted and controlled rollbacks, which will save time and reduce the chance of error.
Administrators should remember this policy is meant as an emergency mechanism and should be used with caution. Only the latest release of Chrome Browser is officially supported, so if you rollback, you could expose your users to known security issues not addressed in previous versions.
Increase printing control with PIN codes
We are continuing to improve support for advanced printer functionality commonly used by enterprise customers. Starting in Chrome 75, PIN code printing will be available which will allow users to enter a pin code when sending the print job, and release the print job for printing when they enter the pin code into the printer keypad. This gives users more control over when a print job is printed so documents aren't lying unattended at the printer. And because a user has to actively request their print job be released, it also reduces waste.
PIN printing will be enabled if the user's Chrome device is managed, and the printer supports IPPS communication and the IPP attribute for "job-password".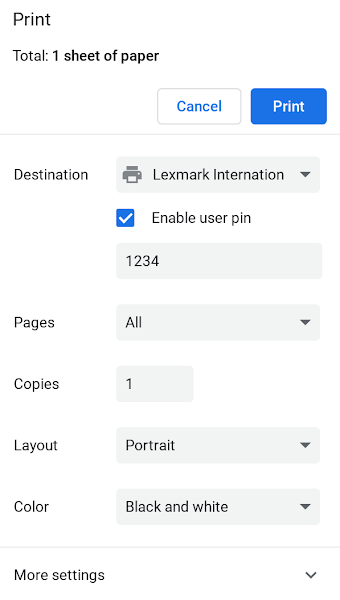 Enable forced re-enrollment of devices
If managing devices is one of your responsibilities, you may find you sometimes need to address lost or stolen devices. In the past, if a misplaced device was wiped remotely and then later recovered, a user would need to enter their credentials into that device for it to re-enroll into your domain.
Starting in June 2019, and rolling out incrementally, managed Chrome devices will automatically re-enroll once they connect to a network, eliminating the need for users to enter their credentials to complete the re-enrollment step. This feature will be rolled out incrementally, and will become the default for new customers as well as existing customers who have not changed the default forced re-enrollment setting.
If you choose, you can still require users to enter their credentials to re-enroll recovered devices, and use enrollment permissions to prevent specific users from being able to re-enroll through that process. More information on wiping and enrolling devices can be found on our help center.
Chrome Remote Desktop is now on the Web
Chrome Remote Desktop is now available on the web. For users, this means an enhanced Chrome Remote Desktop experience and ready-to-go support for multiple monitors, with support for file transfers coming soon. For administrators, this means you can control whether users can access other computers from Chrome using Chrome Remote Desktop.
If you're an enterprise user of the Remote Desktop app, we recommend switching to the new web version before June 30, 2019. After that, the desktop application will no longer be supported. You'll still be able to use our Chrome Remote Desktop apps for Android and iOS.
To stay in the know, bookmark and visit our Help Center, or sign up to receive new release details as they become available.