API Management
I Love APIs World Tour: That's a Wrap!
Customers, best practices, and industry insights in five cities, three countries, and two months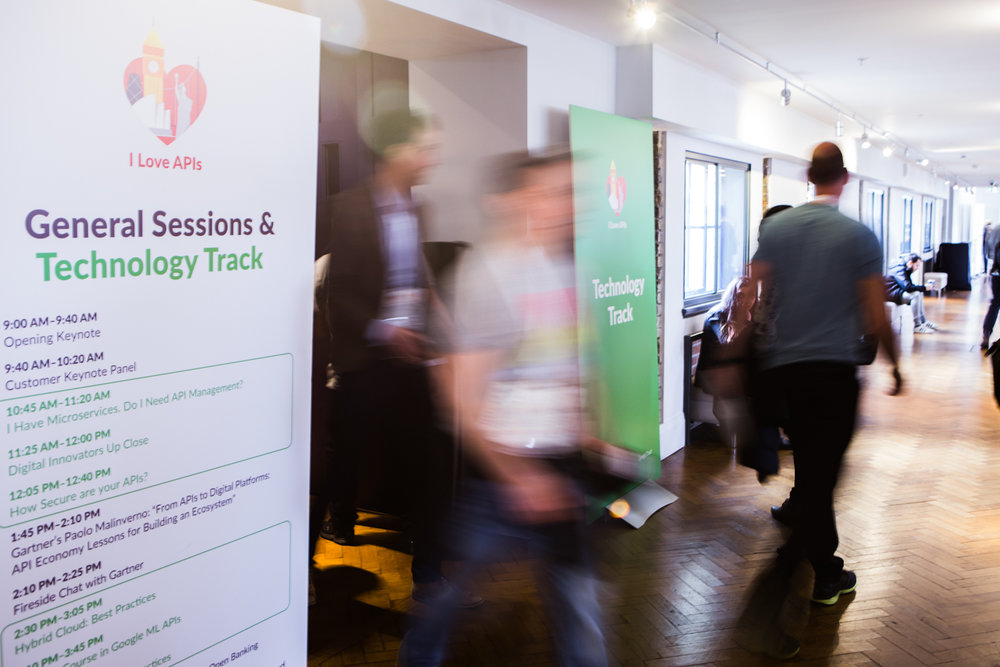 Customers, best practices, and industry insights in five cities, three countries, and two months
Last week we completed our five-city I Love APIs World Tour with a lively, sold-out event in Google's beautiful Chicago offices, after stops in Sunnyvale, Sydney, London, and New York.
With sessions on hybrid-cloud technology, microservices, API security, and API management best practices, these gatherings of hundreds of API and digital business experts were packed with stories of challenges, successes, and lessons learned from the digital business world.
We had a blast, learned a lot, and were thrilled and grateful that so many business leaders, IT technologists, and developers enjoyed spending time together, collaborating, learning, and inspiring each other.
Digital transformation: what's going well and what isn't
Google vice president and former Apigee CEO Chet Kapoor kicked off each stop with the assertion that every business is feeling the pressure to be digital but that many are stymied in their digital transformations because the popular notion of "digital transformation" itself can send the wrong message.
Companies don't arrive at a "digitally transformed" state. What are they "transforming" into? How do they know when they've arrived?
Rather than thinking in terms of "digital transformation," Chet advised, enterprises would be better served conceptualizing around "business evolution."
So how is business evolution unfolding? Business leaders are starting to embrace a wholistic, organization-wide vision and recognizing that this isn't about specific investments like a few apps or a website—it's about top-to-bottom changes in how business gets done. More enterprises also recognize that they can't build everything they need to engage customers and view cloud as today's vehicle for innovation—well-beyond compute and storage.
To move faster, companies need to apply the disciplines of product development to digital initiatives, Chet argued. They need to iterate faster by taking advantage of data, analytics, and ML. And they need to join ecosystems to leverage what others have built to complement their own strengths and reach new users.
Voices of digital business
Since Apigee hosted its first event in 2013, I Love APIs has been where customers, partners, developers, IT technologists, and business leaders share perspectives, best practices, and inspiration in a rapidly evolving API management market.
This year we were inspired by stories of business evolution from digital leaders from HP, Nielsen, PwC, Experian, T-Mobile, Autodesk, Hiscox, Zain Group, Tradier, Rush University Medical Center, and CenturyLink as they joined Chet on stage at the kickoff of each stop on our tour.
From telcos to healthcare companies to retailers, these customers told stories across the spectrum of digital transformation.
Zain Group CEO Scott Gegenhiemer, for example, joined us in London to describe how this leading telecom employs API management to unify development across eight regions in the Middle East and Africa.
Kate Bae, Nielsen's vice president of product leadership, took the stage in Chicago to explain how moving the company's partner sign-up process from Excel spreadsheets to APIs has sped up on-boarding, and changed customers' perception of the 95-year-old information, data, and market research company.
"The status quo isn't sustainable," said Bae, whose company uses APIs to open up its valuable data to participate in ecosystems and deliver new cloud-based applications.
More than thirty of our customers also sat down with us in our Innovator Spotlight studio to share their stories on camera (check out the first set of videos from these interviews here). And many contributed to a variety of sessions throughout these one-day events.
Bringing APIs, microservices, and hybrid cloud together
This year our expanded program and our customers brought API management, microservices, and cloud technologies into focus.
We were fortunate to hear powerful technology and market perspectives during a series of fireside chats with Google Cloud leaders, including CEO Diane Greene in Sunnyvale, CTO Brian Stevens in New York City, COO Diane Bryant in Chicago, and Gregor Hohpe (technical director at Google's Office of the CTO) and David Elliott (global product lead of enterprise cloud) in Sydney. The London fireside chat featured Google Cloud's director of product strategy Ed Anuff with Gartner's Paolo Malinverno.
Audiences loved the crash course in machine learning APIs, presented by various Google Cloud experts (check out the online version of the crash course here).
During the popular developer workshops, developers rolled up their sleeves and tried out Apigee Edge as well as Istio, the open source project designed to ease the pain around connecting and securing a network of microservices.
We hope that everyone enjoyed the experience as much as we enjoyed hosting it. Looking forward to seeing you next time!