API Management
Apigee for PCF: Modernize Apps Securely and Boost Consumption
There's immense pressure these days on CIOs to keep up with ever-changing business needs. To move faster and more efficiently, technology teams have had to rethink their application strategies by modernizing legacy applications, embracing microservices-based architectures, and leveraging cloud technologies.
There are two key aspects of app modernization: re-architecting the monolith without affecting business continuity and enabling app consumption. Apigee, in collaboration with Pivotal using Pivotal Cloud Foundry (PCF), has helped many enterprises make this transition successfully and today, we're proud to announce that Apigee has received the 2018 Pivotal Partner Award for "Consumption." This award recognizes how Apigee helped several companies increase the usage of their applications built on PCF.
"Apigee Edge can be deployed alongside Pivotal Cloud Foundry as a fully integrated application service. Operating a local API solution has been instrumental in accelerating adoption of applications deployed to PCF," said Nima Badiey, head of technology ecosystem at Pivotal Software, Inc. "Our partnership with Apigee has been successful due to their leading-edge technology, a relentless focus on customer success, and strategic buy-in from customers fully invested in the journey to modernize their application portfolio."
Modernizing apps while maintaining business continuity
Application modernization is a phased approach in which one or more components of the monolithic legacy apps are re-architected in sprints. Throughout the process, it's critical to ensure that the customer experience isn't degraded. Because Apigee and PCF are integrated at the product level,
Apigee Edge
can be deployed as a route service, intercepting every request at the edge of PCF. Deploying the Apigee facade ensures that the end requests are routed to the most appropriate target, so developer interface and business continuity are uninterrupted. Using Apigee for PCF, enterprises can:
Mitigate modernization risk with automated routing of API requests
Monitor performance and usage of both legacy and modern services
Secure services from cyber threats and traffic spikes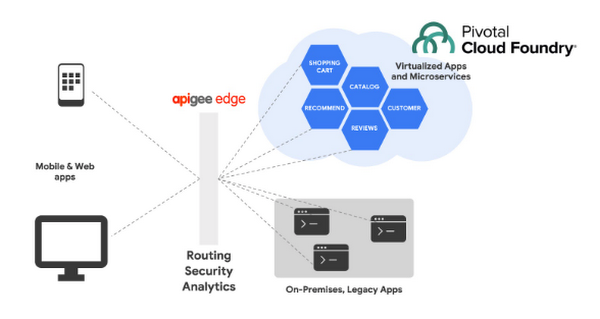 Increasing consumption of modern applications
Modernized apps are composed of microservices that need to be managed, secured, and made discoverable for external consumption. This makes API management an essential capability that ensures consistent control, security, and visibility of microservices. Enterprises building applications on PCF can leverage the Apigee Edge API management platform to:
Manage the entire API lifecycle from design through security
Make services discoverable through a developer portal
Monitor performance and usage of services
Secure APIs from cyber threats and traffic spikes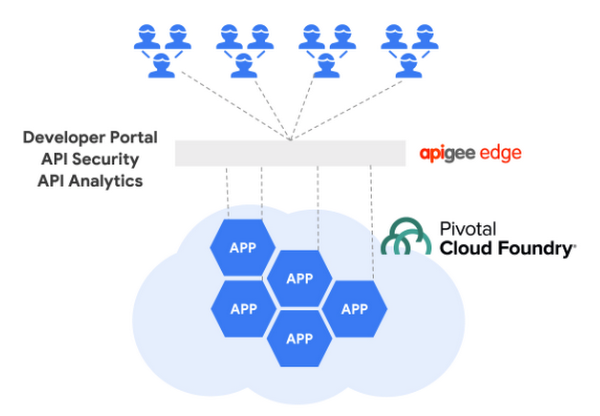 We're proud of the work we've done with PCF and look forward to engaging with many more enterprises in their digital journey.