API Management
Announcing Apigee Edge Microgateway for Pivotal Cloud Foundry
As each microservice can communicate with other microservices or can be accessed only through REST APIs, you'll have lots of APIs, making it tricky for developers to discover, understand, and consume them. Security becomes an issue, too; as most microservices will be deployed in the cloud, it's important that they're protected from cyber attacks at the API layer. Finally, once an application has been disaggregated into many microservices, it's challenging to gain visibility into the use and performance of the microservices APIs.
In short, microservices need to be managed (for more details on this, check out our eBook, "Microservices Done Right"). Although some microservices stacks offer a basic gateway, routing and basic traffic management capabilities, they do not provide full API management capabilities (security, robust traffic management, end-to-end visibility into API usage and adoption, and monetization capabilities). Microservices implementation will fail without a robust API management solution.
This is where our Edge Microgateway comes in. Edge Microgateway is a lightweight, secure, HTTP-based message processor designed especially for microservices. Its main job is to process requests and responses to and from backend services securely while asynchronously pushing valuable API execution data to Apigee Edge, where it's consumed by the Edge analytics system.
Edge Microgateway on Pivotal Cloud Foundry
Edge Microgateway has been GA for quite sometime, but today we're announcing the general availability of Apigee Edge Microgateway for Pivotal Cloud Foundry. This feature makes it possible to have the Edge Microgateway run natively as an app inside Pivotal Cloud Foundry and have it provide API management via route services to the deployed apps. In addition to providing seamless security and traffic management, because the Edge Microgateway is itself deployed as an app it becomes easier to scale the microgateway based on traffic requirements using standard Cloud Foundry scaling semantics.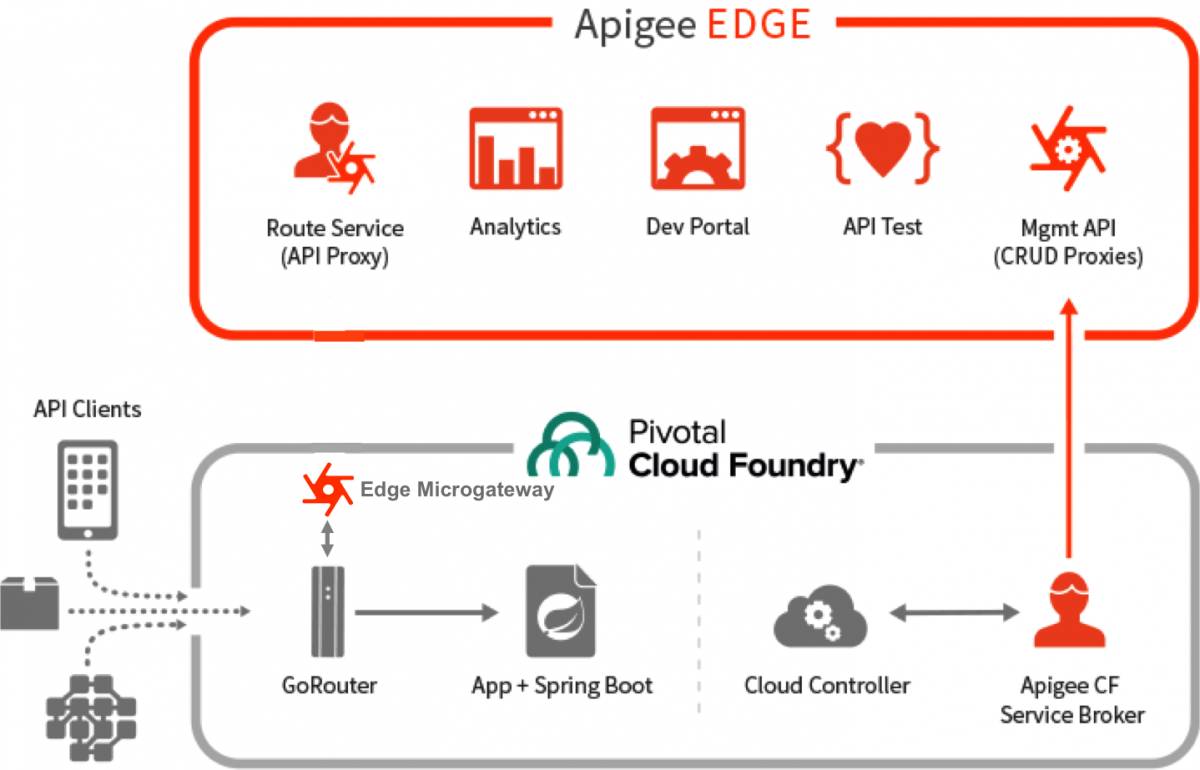 Apigee announced the general availability for integrating Apigee Edge with Cloud Foundry using Route Services earlier this year. Using this feature, the route service intelligently routes API traffic to and from Edge, thereby leveraging our broad range of features related to traffic management, mediation, policy enforcement, and analytics.
The hybrid deployment option
While this has worked well for several use cases, there are some scenarios where an API's latency is a key concern. An extra hop of having the API call go to the cloud first before it finally comes back into the data center is undesirable. In other cases, there are requirements to keep internal APIs within the data center for security or compliance reasons.
In these scenarios, a hybrid deployment option—a local gateway within the customer's data center—provides the best experience; this is what we deliver by making Edge microgateway available on and integrated with Pivotal Cloud Foundry.
This provides an easy, pluggable mechanism (using CF route services) to embed local API management in the call path of microservices and APIs. The CF admin/operator can bind routes for apps to the microgateway that is running locally. This provides the following benefits for your operational needs:
A hybrid deployment option ideal for low latency use cases and internal APIs
An increase in developer productivity, as the app developer can focus on building apps
Assurance for admins/operators that their APIs are secure and traffic is managed
Visibility for product managers into API performance and adoption
Get started
It's simple to get started. Download Edge Microgateway and get access to a Cloud Foundry org/space to deploy your app and create routes.
Here's how to get up and running:
Install and test Edge Microgateway locally on your machine
Update your local Microgateway install to enable it to run it on Cloud Foundry
Push Microgateway as an app to Cloud Foundry
Bind the Edge Microgateway service to your Cloud Foundry app
Start enjoying the benefits of API management locally :)
Here
are the instructions to configure the service broker for Edge and
here
are the instructions to install and configure Edge Microgateway as an app on Pivotal Cloud Foundry.
We encourage customers to try out this new capability, ask questions, and provide feedback on the Apigee Community.