API Management
10 Core Dimensions of Digital Transformation
In a previous post, we explored two key principles of digital transformation. Here, we'll introduce three broad and important concepts—vision, alignment, and execution—and the 10 core digital transformation dimensions that fall into these areas.
While partnering with enterprises on their digital transformations, we've discerned a number of patterns that businesses fall into at different stages during their journeys. From these patterns, we've discerned 10 core dimensions of digital transformation that fall into three broad areas:
The Vision area measures whether your organization has the right mindset to achieve digital transformation, and whether leaders understand the scope and core concepts involved. It encompasses the Platform, APIs, Outside-In, and Ecosystem dimensions.
The Alignment area gauges the business's commitment to digital transformation and whether it has the resources and governance to support agile API product development. It encompasses the Leadership, Funding, and Metrics dimensions.
The Execution area assesses how effectively the business can build and scale available APIs. It encompasses the Software Development Lifecycle (SDLC), Talent, and Self-Service dimensions.
Typically, a strong vision helps a company to more easily align, which can enable more effective execution. That may not sound revelatory, but over the years, we've observed many companies that try to jump into execution but encounter strong headwinds due to lack of executive support, basic agreements about goals, and other problems due to insufficient vision and alignment.
The 10 dimensions help to bridge these gaps by highlighting where to apply support and reinforcing that API-first digital transformation impacts the whole enterprise. The dimensions are meaningful in relation to one another. This is where the digital score comes in, packaging a business's specific combination of dimensional strengths into an overall measure of digital competitiveness.
The score applies across industries. Vertical-specific expertise is still relevant in the digital world—but we also live in a world in which Amazon is a grocery store, companies such as Alphabet and Apple are innovating in the automotive space, and scores of digital upstarts are impacting insurance and finance. This means that certain core capabilities—described by the dimensions, categories, and digital score in Apigee Compass—are relevant regardless of industry.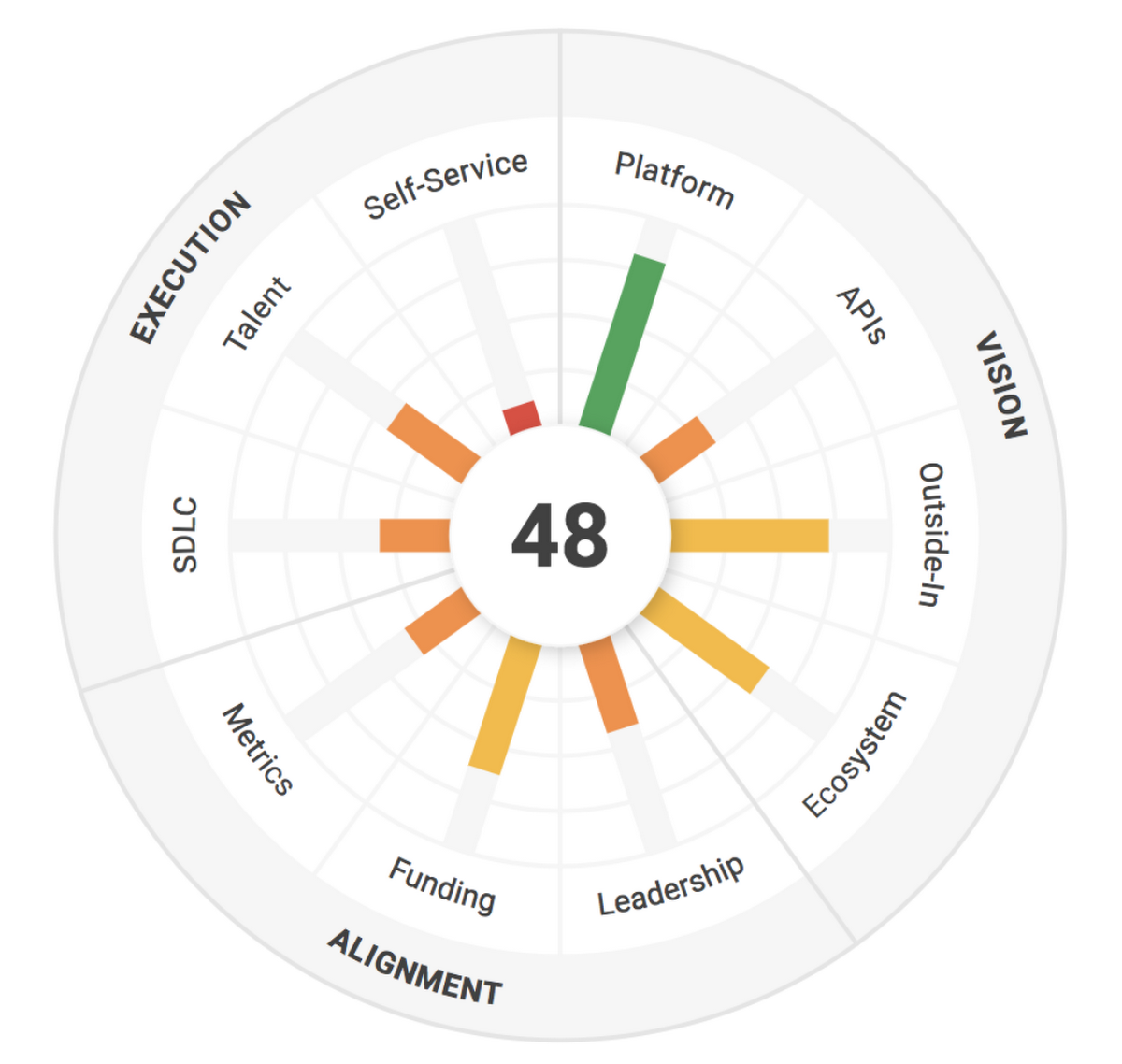 This is a fairly typical pattern, with the organization on the cusp of moving from a lagging position to a progressing one. The company leaders have a fairly advanced vision and recognize the importance of platforms, an outside-in perspective that uses data to improve customer experience, and the ability to leverage software for greater ecosystem participation.
But there are also glaring weaknesses that stop the company from executing on and advancing this vision. Chiefly, the company treats APIs mostly as a way to expose assets and hasn't recognized their role in the processes mentioned above. Additionally, the lack of self-service resources blocks developers from moving fast, and the persistence of legacy approaches across the company's metrics and software development models aren't helping either. C-suite leaders will likely need to better align around the value of APIs to push the organization forward.
Coming up next, we'll dig into the first four dimensions of digital transformation by exploring the role that vision and the right mindset play in digital transformation. For more on these topics, check out our eBook, The Digital Transformation Journey, and explore Apigee Compass to get tailored recommendations for your company.