Healthcare & Life Sciences
Accelerate innovation in life sciences with Google Cloud
November 16, 2022
Geri Studebaker
Director, Life Sciences Key Accounts, Google Cloud
Try Google Cloud
Start building on Google Cloud with $300 in free credits and 20+ always free products.
Free trial
The last few years have underscored the importance of speed in bringing new drugs and medical devices to market, while ensuring safety and efficacy. Over this time, healthcare and life sciences organizations have transformed the way they research, develop, and deliver patient care by embracing agility and innovation. 
Now, the industry is set to reap the benefits of cloud technology and overcome the existing barriers to innovation.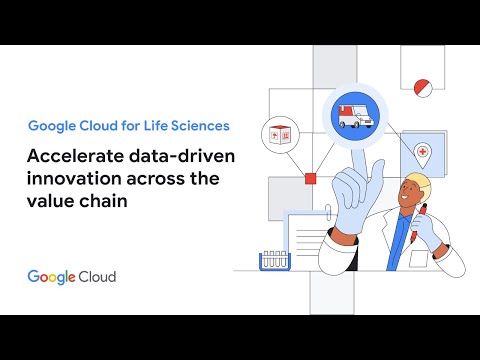 Watch a 2-min overview of how Google Cloud helps life sciences accelerate innovation across the value chain.
What's holding back innovation?
Costly clinical trials: The process of trialing and developing new drugs and devices is still long and costly, with more than 1 in 5 clinical trials failing due to a lack of funding.1 The high failure rate comes as no surprise when you consider the average clinical trial costs $19 million and takes 10-15 years (through all 3 phases) to be approved.2
Stringent security requirements: Pre-clinical R&D and clinical trials use large volumes of highly sensitive patient data – making the life sciences industry one of the top sectors targeted by hackers.3 On top of this, the FDA and other regulatory bodies have strict requirements for medical device cybersecurity. 
Unpredictable supply chains: Global supply chains are becoming increasingly complex and unpredictable. This can be brought on by anything from supply shortages, to geo-political events, and even bad weather. Making things worse is the lack of visibility into medical shipment disruptions – so when disaster strikes you're often caught off guard.
Google Cloud for life sciences
At Alphabet, we've made significant investments in healthcare and life sciences, helping to tackle the world's biggest healthcare problems, from chronic disease management, to precision medicine, to protein folding. 
Together with Google, you can transform your life sciences organization and deliver secure, data-driven innovation across the value chain. 
Accelerate clinical trials to deliver life-saving treatments faster and at less cost. Clinical trials require relevant and equitable patient cohorts that can produce clinically valid data. Solutions like DocAI can enable optimal patient matching for clinical trials, helping organizations optimize clinical trial selection and increase time to value.  How that patient data is collected is also important.  Collection in a physician's office captures a snapshot of the participant's data at one point in time and doesn't necessarily account for daily lifestyle variables. Fitbit, used in more than 1,500 published studies–more than any other wearable device–can enrich clinical trial endpoints with new insights from longitudinal lifestyle data, which can help improve patient retention and compliance with study protocols. We have introduced Device Connect for Fitbit, which empowers healthcare and life sciences enterprises with accelerated analytics and insights to help people live healthier lives. We are able to empower organizations to improve clinical trials in key ways: 

Enable clinical trial managers to quickly create and launch mobile and web RWE collection mechanism for patient reported outcomes

Enable privacy controls with Cloud Healthcare Consent API and, as needed, remove PHI using Cloud Healthcare De-identification API 

Ingest RWE and data into BigQuery for analysis

Leverage Looker to enable quick visualization and powerful analysis of a study's progress and results

Ensure security and privacy for a safe, coordinated, and compliant approach to digital transformation. Google Cloud offers customers a comprehensive set of services including pioneering capabilities such as BeyondCorp Enterprise for Zero Trust and VirusTotal for malicious content and software vulnerabilities; Chronicle's security analytics and automation coupled with services such as Security Command Center to help organizations detect and protect themselves from cyber threats; as well as expertise from Google Cloud's Cybersecurity Action Team. Google Cloud also recently acquired Mandiant, a leader in dynamic cyber defense, threat intelligence and incident response services.

Optimize supply chains and enhance your data to prepare for the unpredictable. With a digital supply chain platform, we can empower supply chain professionals to solve problems in real time including visibility and advanced analytics, alert-based event management, collaboration between teams and partners, and AI-driven optimization and simulation.
Ready to learn more? We'll be taking a deep dive into each of the challenges outlined above in our life sciences video series. Stay tuned.
---
1. National Library of Medicine
2. How much does a clinical trial cost?
3. Life Sciences Industry Becomes Latest Arena in Hackers' Digital Warfare