Google Maps Platform
Homesearch makes looking for real estate easier with Google Maps Platform
Editor's Note: Today's guest post comes from Giles Ellwood, CEO and Co-Founder of Homesearch, a technology company at the forefront of United Kingdom property data, working to create a more informed, connected, and proactive property market for everyone.
For most people, buying a home will be the biggest purchase of their life. But with so many factors to consider, and so many options available, it can also be one of the most confusing. At Homesearch, we want to create a more hassle-free experience by making information easy to find and easy to share, whether you're looking for a property, or selling one.
In September 2020, we launched our property search product to the public, and we wanted it to be more than just a classified ads site. We've used Google Maps Platform to create an easy-to-use, map-led search experience that enables people to navigate the property market as seamlessly as possible.
Making more than 28 million properties easily searchable
Homesearch was founded in 2017, initially as a platform for real estate professionals. My previous experience as a publisher of lifestyle and property magazines involved building up a large, customized, database of addresses to target. I soon realized that my real estate clients were as interested in the database as they were in advertising with us. It was clear that even the professionals didn't have access to the data they needed. At around the same time, I met Sam Hunter, an Australian estate agent who had recently moved to London. When he first arrived, he was shocked to find out that his office only had paper files to research from, and even these were restricted to sales from that particular branch. There was no centralized, comprehensive way of researching property. Sam and I had separately identified a clear gap in the market and intended to fill it. We co-founded Homesearch to build a research platform for professionals in the real estate industry. We wanted to help them understand everything they could about any property in the United Kingdom to make it easier for agents to identify and move properties more quickly and help connect interested buyers with motivated sellers.
We spent the first year and a half collecting, verifying, and cleaning all the data available on 29 million properties in the UK. While there is a large amount of publicly available data on properties, it is held in disparate sources and often needs extensive cleaning. It's quite easy to pick 200 houses with the right characteristics out of a list of 10,000, but it's a much bigger challenge to find out every single detail about one specific property. For every property that had missing information, our team of data scientists used customized algorithms to model the missing data with the highest degree of accuracy possible. By the time we were done, we had built a database with 24 billion individual items of information.
Our goal was to make all of this information easily available to the property industry, but we didn't want to simply present our customers with a set of tables and filters. We decided to use Google Maps Platform to visualize our data and provide a quick, clear context to every property. Plotted on a map, you can see within seconds how close a house might be to schools, or transport links. We wanted to make navigation as easy as possible for our users and Google Maps Platform was key to achieving that, combining smooth performance with an intuitive, easy-to-use interface.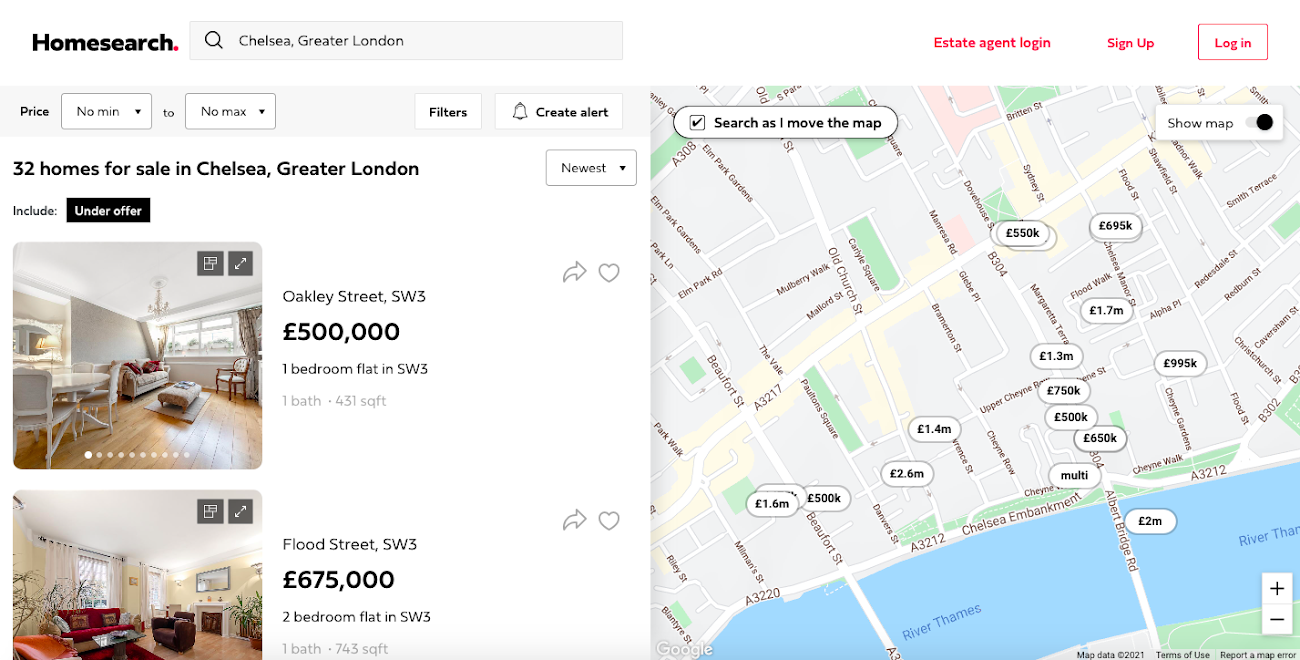 In January 2019, we launched the free trial of Homesearch Pro, our product for property professionals, and by lunchtime that same day, we had more than 1,000 users. To understand how we could support the demand on our service we turned to Snowdrop Solutions, a Google Cloud Premier Partner, for help. The team was able to help us optimize for scale, and get the most from the tools available to us with Google Maps Platform.
After a successful year-long trial, we monetized Homesearch Pro at the start of 2020. Shortly afterwards, the UK and much of the world went into lockdown to limit the spread of COVID-19. While this temporarily slowed down the property industry, it was also a chance for us to take stock of where we were going and what else we could do to help consumers navigate the property market, especially during these uncertain times. Over the past year, we heard from real estate agents that a platform like ours would be perfect for the general public.
Online property searches haven't evolved much in the UK over the last couple of decades. They follow a linear, stepped process, where you enter the categories you want, decide on a particular area, and the search engine returns all the properties that fit your criteria. While this is methodical, it's also restrictive, and means that potential home buyers can miss out on great properties that are just outside their geographical filters.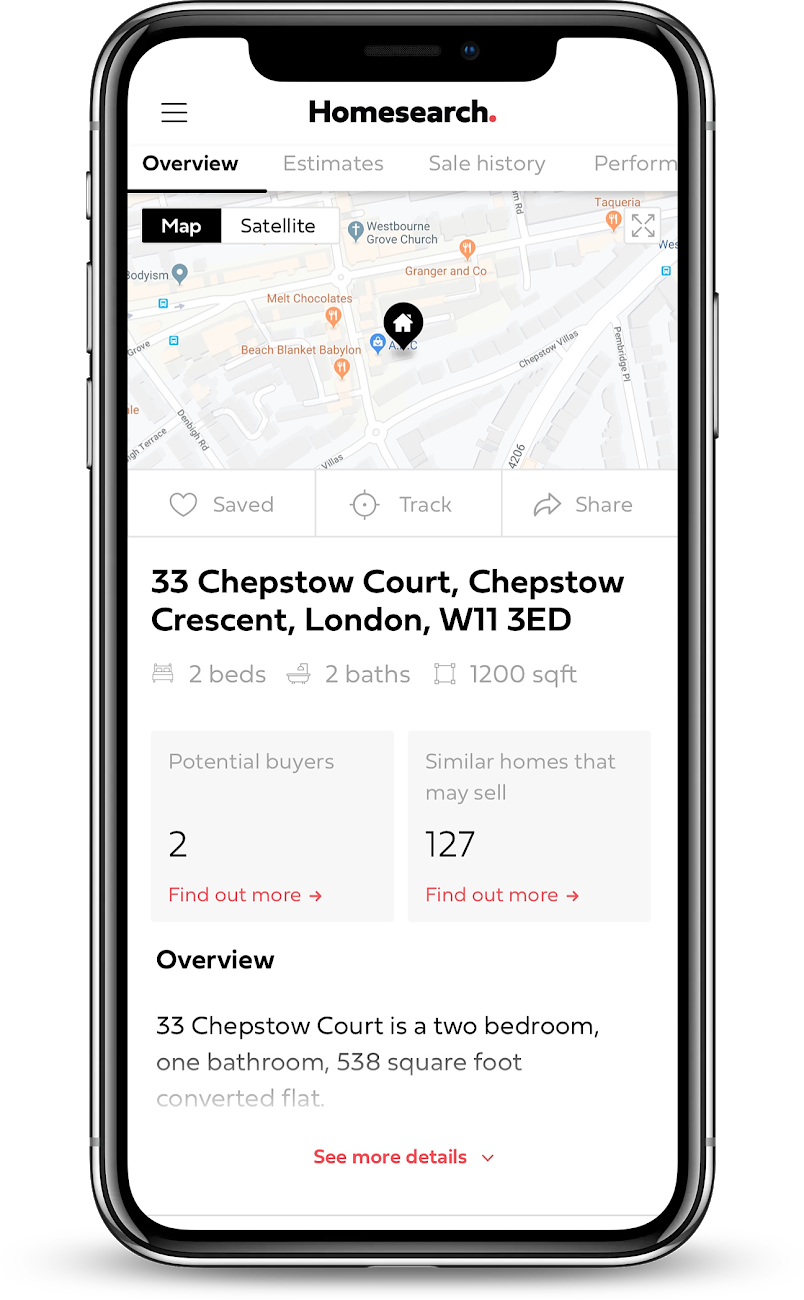 We wanted to build a more fluid and open search experience, centered around a map-based interface. Its core relies on the Maps JavaScript API and Street View Service, which allow users to easily explore areas using the map or Street View images. Users can add filters and search criteria as they navigate the map, and watch it dynamically update results with every change made. Meanwhile, the Places API and Distance Matrix API help us to contextualize search results, by marking nearby amenities and services such as restaurants or schools.
We were confident that we could design a fully functioning property search that gives customers all the information they need, but we also wanted to make sure we got the interface right. We were trying to change behaviors that had been built up over years, so we knew it was essential to make the experience as smooth and frictionless as possible to encourage uptake. That's why Google Maps Platform has been such a good fit for us. When people think of online maps, Google Maps is the standard that they compare everything else to. It's intuitive, almost everybody has used it before, and it delivers a consistently high quality experience.
We launched Homesearch Public in September 2020 so we feel it's the most mature product with the best user experience possible. Using Google Maps Platform, we're a step closer to our vision of being the source of truth for property in the UK.
For more information on Google Maps Platform, visit our website.