Google Maps Platform
How to get started with Google Maps Platform and get support when you need it
Last year, we announced a series of updates and enhancements to Google Maps Platform, including free customer support for all customers and integration into the Google Cloud Platform Console to make it easier for you to track your usage and manage your projects alongside your Cloud projects. Since then, we've continued to build out a range of resources to help you build, optimize, and manage your Google Maps Platform solutions. Let's take a look at some of the resources that are available to help you get the most out of Google Maps Platform.
Getting started
Our documentation is a great place to start. Within our documentation we provide technical information, code samples and tutorials organized by product area, platform and API. We also maintain a list of Frequently Asked Questions with in-depth answers to the questions we hear most.
Community-driven support
We have an active Google Maps Platform developers community on StackOverflow, a collaboratively-edited question and answer site for programmers. Although we don't run Stack Overflow, you can sign in using your Google account to find answers to, ask questions, answer questions, and upvote useful answers. It's a great place to ask technical questions about developing, debugging, and maintaining your apps. Google Maps Platform team members monitor many Google Maps related tags to make sure accurate and helpful information is being shared.
Expert Google Maps Platform customer support
Of course, we're always here for you too. If you can't find an answer to your question with the available resources, you can always contact support directly. Support is especially relevant when you have issues that are specific to your account (e.g. quota or billing issues), but we're happy to help with any question you may have. To create a case, all you have to do is visit the Google Maps Platform Support page in the Google Cloud Platform Console and select the project related to your question in the top dropdown bar. If you don't currently have a Google Maps Platform API enabled in the project, the support page will take you to a page where you can get started.
We also recently launched the ability to contact support over chat for some customers. Because the feedback has been so positive, we're now expanding chat to all of our users.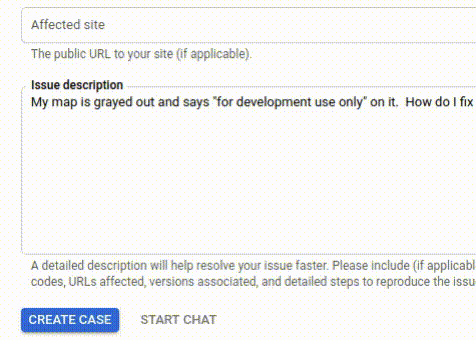 No matter how you reach out to us for support, our goal is to respond to critical issues within one hour and all cases within 24 hours.
Bugs and feature ideas
Our Issue Tracker is where we actively maintain a list of known and reported issues. This is where you can easily view already-reported bugs and feature requests, and add your own comments to help our teams investigate issues. Also, in the event we experience an outage, a banner message will appear in the Maps Support section of the Google Cloud Console, with a link to the issue tracker for more information to give you real-time status on the issue.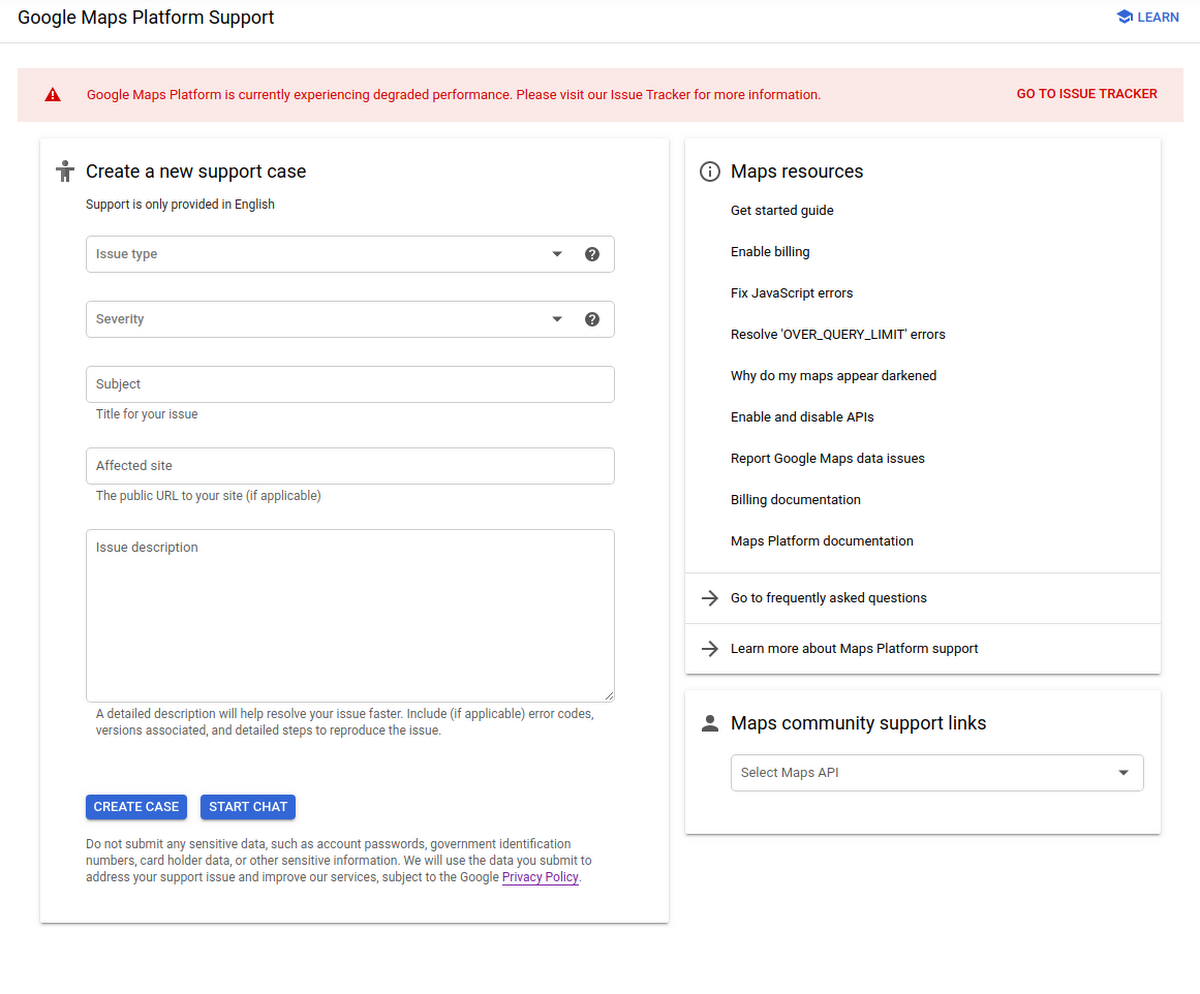 Whether you want to report a bug or have a new feature request, we're here for you every step of the way. Get started by filing a request with our Issue Tracker—including sample code or a screen capture will help us identify the issue and respond faster.
To get updates about our APIs, changes to our terms of service, support portal scheduled maintenance windows, and more you can subscribe to our new email notification group to now get your updates all in one place.
For more information on Google Maps Platform, visit our website or visit our support and resources page.