Google Cloud Platform
Cloud Video Intelligence and Cloud Natural Language Content Classification are now generally available
One of our main goals at Google Cloud is to make it easy for developers to add a layer of intelligence into their applications. And to help, we've been expanding our portfolio of pre-trained machine learning models to offer more intuitive features. Today we're announcing two updates:
Cloud Video Intelligence, our machine learning API that analyzes video content, is generally available and now offers video transcription.
Cloud Natural Language Content Classification, our latest feature, which automatically classifies content into 700+ categories, is now generally available and has added additional samples in seven programming languages.
Cloud Video Intelligence achieves more precise results with 20,000 labels
Since we
launched
Cloud Video Intelligence earlier this year, we've been working closely with our beta users to improve the model's accuracy and discover new ways to index, search, recommend and moderate video content.
In addition to general availability, Cloud Video Intelligence is now capable of deeper analysis of your videos —
everything from shot change detection, to content moderation, to the detection of 20,000 labels. We built this demo to show how you can use Cloud Video Intelligence to search a library of video content. You can learn more about the demo on YouTube. The code is also available on GitHub and has been updated to reflect the latest API.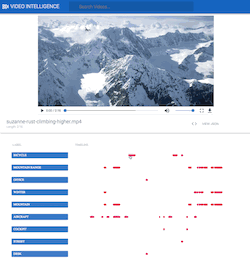 A machine learning model is only as good as the labeled data used to train it. Models depend on high-quality labeled data to accurately classify and analyze other datasets.
Obtaining labeled data remains one of the most difficult challenges for any company that wants to take advantage of AI. It can be time-consuming work. The good news: with Cloud Video Intelligence, we've done the labeling and training for you. Cloud Video Intelligence's latest model can now identify 20,000 labels. To put it in other words, it can now detect:
180 types of fruit, ranging from kiwi to jujube
229 airplane models
667 car models
Over 200 types of buildings, such as supermarkets and convention centers
Cloud Video Intelligence releases new video transcription feature
Video transcription, or the ability to automatically transcribe video audio into text, has been an in-demand feature since we first launched Cloud Video Intelligence. Today, we're releasing video transcription in private beta.
Video transcription is initially available in English only, but we'll expand to new languages soon. You can apply for the private beta by contacting your account manager.
Creating a digital asset management solution for Incentro customers
Incentro
, an online service provider that develops IT solutions on
Google Cloud Platform
(GCP) for media and publishing customers, uses machine learning to address the growing need for their customers to store and find digital media assets.
Leveraging Google Cloud Storage and Cloud Video Intelligence, Incentro built
Segona Media
, an application that can automatically store, tag and index videos, audio files and images. Storing media assets in Google Cloud Storage has cost, lifecycle management and latency benefits. The combination helps to provide interoperability and ease of implementation.
Cloud Video Intelligence creates a comprehensive list of details in a video and creates labels and timestamps where these labels can be found. Without any manual labor, videos can be stored, found and reused based on their full content. Previous solutions relied heavily on manual labeling that could take up to 30 minutes for a video, with only minimal labels and timestamps. Cloud Video Intelligence increased labeling completeness and accuracy. As a result, storing and indexing a video takes less than 20% of the time it did before for their customers.
Incentro also integrated Cloud Video Intelligence to take advantage of its ongoing growth of recognized labels. Now, their customers can leverage the latest machine learning technology without the need for Incentro to continually maintain models or update their application.
Google Cloud Video Intelligence is fast and allows our clients to store and index a video in under 20% of the time it took with previous solutions. The detailed video tagging, without any configuration on our part, is astonishing. The ease of use, accuracy, integration with our serverless application and speed offer a video tagging solution that's not only futureproof but also continually improves over time.
Making advertising campaigns more effective with Robotix Media
Robotix Media
offers a fully managed solution to optimize budget and effectiveness of social marketing campaigns. For deeper insights into popular video advertising content, Robotix integrated Cloud Video Intelligence. This allowed them to develop their own system for analyzing video ad performance, generate unique insights, and release a minimal viable product (MVP) faster for their clients.
Using Cloud Video Intelligence, Robotix can identify objects in every scene in ads delivered on social media, then make recommendations for further advertising. For example, Robotix may recommend that a client adds parameters related to detected labels or use the labels to source new videos for the advertiser to test in their ads. With this insight into video ad viewing time, Robotix's clients can better understand what elements could have influenced view time and post-view actions. Robotix clients using their insights to design new video ads have seen view times go up by as much as 30%.
Scene detection can be a very expensive computing process. Leveraging Google Cloud Video Intelligence is not only less expensive than developing similar capabilities in-house, but it is also very easy to use. The label detection quality is perfect for our needs. It allows us to scale quickly and maximize the value that our clients get from their advertising campaigns.
Content Classification for Cloud Natural Language is generally available
Cloud Natural Language's Content Classification is now generally available for all GCP users. This new feature can automatically sort documents and content into more than 700 different categories, including Arts & Entertainment, Hobbies & Leisure, Law & Government, News, Health and more.
Content classification is ideal for media companies who want deeper insights into their content. This means they can build or enhance recommended content for their users as well as gain a new layer of data to help guide opportunities for their advertisers. For example: Hearst Newspapers, one of the largest mass media publishers in the world, uses it in their content management system to classify over 3,000 articles a day, in real time. Read their case study for more details.
To get started with Cloud Natural Language Content Classification, check out our blogpost from September, or read our documentation.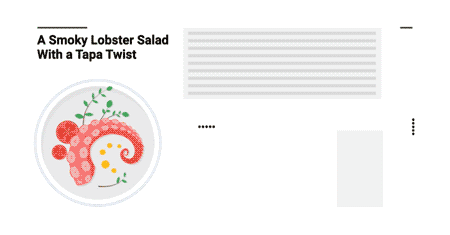 We hope these updates to our video recognition and natural language processing help you use machine learning to extract new value from your data. We can't wait to see what you'll build! Sign up for a trial at no cost with GCP or visit our website for more information.