Data Analytics
Telecom Leader TELUS keeps subscribers connected and safe, leveraging data to confront Covid-19.
August 19, 2021
Bruno Aziza
Head of Data & Analytics, Google Cloud
As one of Canada's largest telecommunications companies, TELUS has over 9.5 million subscribers, and those subscribers generate a lot of data. It's up to Joe Bettridge, Consulting Lead of TELUS Insights, to use that data to drive innovation. Google Cloud's suite of services, including BigQuery and Data Studio, has proven instrumental to the company's overall data strategy. 
"Our division was founded in 2015 and really focused on trying to commercialize data in a privacy-preserving manner," Bettridge says, "That means taking data we have as a company and taking it to market in a way that the privacy of the individual or the devices the data comes from isn't being impacted negatively."
TELUS manages geolocated data generated by network locations, talk and text signals, and data migrations between towers, representing over 275,000 points on a map. Last year the company analyzed over 1.2 petabytes of data, a number that is very much expected to grow as more subscribers upload more photos and texts, not to mention voice calls. 
In March 2020, when the pandemic changed everything, TELUS found itself in a position to leverage its data for the good of all Canadians. With respect for privacy of paramount concern, TELUS used Google Cloud to launch a new platform in three weeks that empowered the Canadian government to make better strategic decisions in confronting Covid-19 within its borders. 
Government and health care industry leaders needed to better understand how far people were traveling, how different communities interacted with one another, and how efficiently messaging about the pandemic was reaching citizens. 
TELUS devised a solution that drew insights from large, aggregate data samples and employed a de-identification process, which ensured that individual subscribers' data remained private. The platform was a success and earned the company a HPE-IAPP Privacy Innovation Award. 
The award "really shows that our privacy differentiator is core to our product, and it's really helped us gain traction with these government agencies," says Bettridge. 
Before migrating to Google Cloud, TELUS managed an on-prem data environment that was proving too cumbersome to manage the volume of data they were ingesting by the day. 
BigQuery marked the beginning of a different approach to data: Processes that used to take a month are now taking only a day. Ultimately, this allowed Bettridge to accomplish much more with a much smaller team. 
"We engaged Google and they were very good at providing specialists who would help us with architecture, help us give our teams training, get us up to speed and comfortable. A lot of what we built in the past could be ripped out of the system it was in and placed up in the cloud quite quickly and quite successfully," says Bettridge. 
For more on how Joe Bettridge is leveraging Google Cloud to protect privacy and manage geolocated data, watch the latest episode of Google Cloud's Data Journeys below.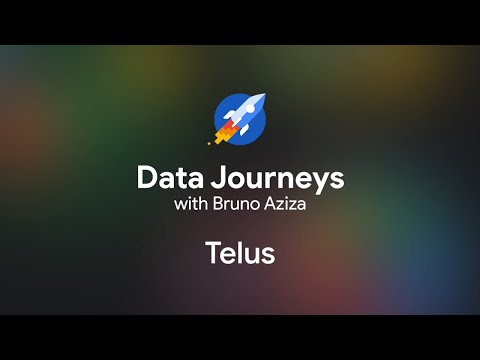 Data Journey: Episode 1: Telus