API Management
The Apigee API Monitoring Beta Release Is Here!
We're excited to announce the public beta release of Apigee API Monitoring, a near real-time monitoring solution to increase API availability.
API initiatives continue to play an important role in the enterprise digital transformation journey. As most business-critical applications today are powered by APIs, the experience of application developers, customers, and partners is heavily dependent on their performance.
This new feature adds monitoring capabilities to the Apigee Edge platform, further enhancing customers' visibility into their APIs. It works in conjunction with Apigee Edge cloud to provide contextual insights into API performance, helps quickly diagnose issues, and facilitates remedial actions for business continuity.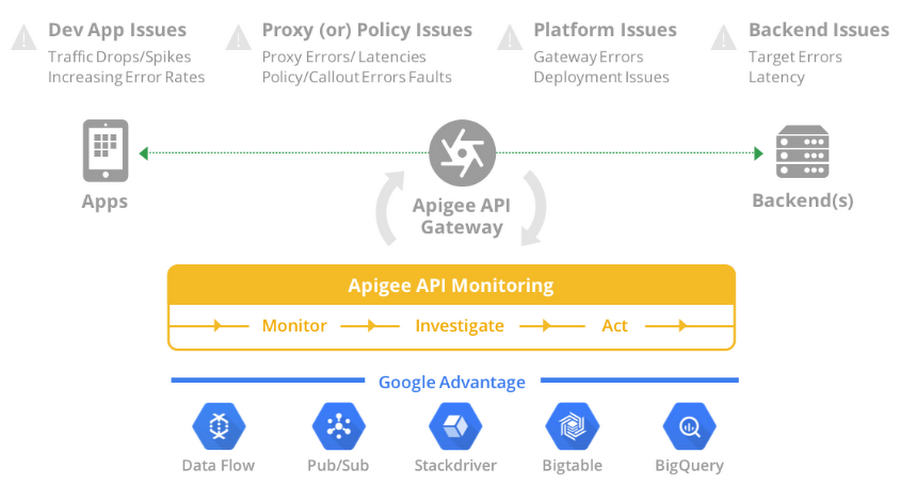 Here's what Leilani Hill, principal engineer at T-Mobile, had to say about this new feature: "Apigee API Monitoring helps us maintain our APIs and thereby deliver consistent customer experience. Unlike other synthetic monitoring tools, it equips us with in-depth insights and the ability to quickly look through and diagnose API issues."
Key highlights include:

Deep integration with Apigee Edge cloud, providing visibility into granular level details.
One-click investigation into API issues, eliminating the need to toggle between multiple screens and correlate debug sessions
Reduction of mean-time-to-diagnosis by quickly identifying the source of an error, whether it is a developer app, proxy, or backend target
Contextual alerts to take informed remedial actions for API issues.
The ability to compute complex metrics at scale, process data efficiently and asynchronously, and reduce API call processing overhead using Google technologies
Getting started
If you're already an Apigee Edge cloud enterprise customer, check out the
documentation
to get started. There, you'll find a complete feature overview, a guided tutorial, FAQs, and more.
Register for our Aug. 9 webcast to learn how enterprises can monitor APIs, precisely investigate issues, and deliver powerful customer experiences with Apigee API Monitoring.